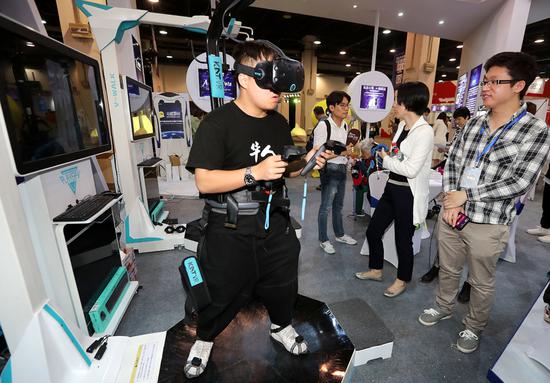 A visitor checks out a virtual reality headset at an exhibition for unicorns in Hangzhou, capital of Zhejiang Province. (Photo by Lin Yunlong/For China Daily)
China's quickened reform of the A-share listing mechanism is set to lure more overseas listed unicorn companies back to the mainland capital market, according to a survey by consultancy PricewaterhouseCoopers released on Monday.
While Hong Kong currently outstrips the United States and the Chinese mainland as companies' preferred destination for IPOs, "timely policy support" has created productive opportunities for unicorns to come back, said Gao Jianbin, PwC China's technology, media and telecommunication leader.
Around 43 percent of the 101 surveyed businesses said they would favor Hong Kong for an IPO, higher than the United States' 25 percent and 23 percent for the mainland's A-Share market.
"Many companies are still in a 'wait-and-see' mood. But with detailed rules for Chinese Depositary Receipts to be rolled out soon, we will begin to see more of these companies embracing local bourses," Gao said.
Unicorns are defined in the study as private companies with a market valuation exceeding $1 billion. Less than two-thirds of companies that choose to disclose funding information said they plan to float shares on the capital market within two years.
Beijing has kicked off CDR trials in the past few months, in a bid to entice tech giants that are considering listing overseas by waiving certain IPO requirements at home.
A number of company executives have expressed willingness to list closer to home. That's despite smartphone maker Xiaomi announcing last week it will postpone its planned share offering on mainland bourses, not long after filing its CDR application.
The listing requirements in Hong Kong are, at this stage, clearer than those for the CDRs, the details for which are just starting to be implemented, according to Gao.
He said the Hong Kong stock exchange has also amended its rules to allow companies with dual-class shareholding structures to apply for IPOs, an indication of its determination to attract unicorn companies.
The study found that the majority of unicorn companies are based in Beijing, Shanghai, Shenzhen in Guangdong province and Hangzhou in Zhejiang province. The top three industries for such companies are corporate services; entertainment, media and sports; and transportation and automobiles.
According to the survey, Chinese unicorns anticipate greater effects from technology innovation than business model innovation in the next one to three years. Challenges they identified include changes in consumer behavior and the emergence of new business models.