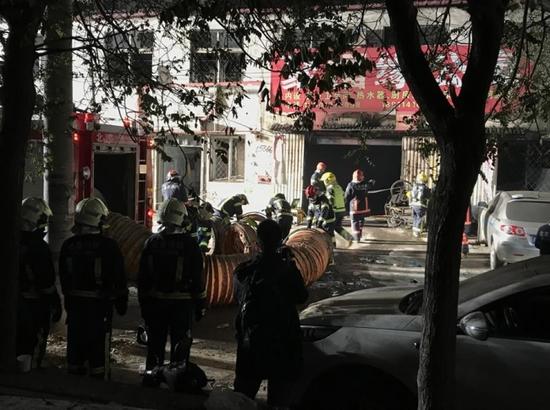 Firefighters work at the site of a fire in Daxing District of Beijing, capital of China, November 19, 2017. [File photo: Xinhua]
Beijing police have arrested 15 people on suspicion of causing serious accident crime in a deadly apartment fire in November causing 19 deaths, authorities said Monday.
The arrests were approved by the procuratorate.
The fire broke out on the evening of Nov. 18, 2017, at a three-story apartment in Xinjian Village, Xihongmen Township, in the city's Daxing District, killing 19 people and injuring eight others.
The suspects arrested included Fan Zhaotian, who built the 20,000-square-meter apartment bloc between 2002 and 2006 without approval from authorities and an underground cold storage basement, where the fire broke out.
Twenty-one officials in Daxing District were given disciplinary penalties and three companies, including the leaser of the apartment, were fined a total of 9.6 million yuan (1.5 million U.S. dollars) for their liabilities in the deadly fire.
The decisions were based on a report made by a panel of investigators assigned by the Municipal Party and government authorities to determine the cause of the fire tragedy.
The report was endorsed by Beijing Municipal Government.
Investigators said in the report that the fire was caused by faulty electric wires in the basement freezers, which had not been put into use and were being tested when the fire occurred.
The investigators also affirmed a host of violations that led to the fatal fire, including the long-standing hidden safety hazards with the apartment, the ineffectiveness of supervision by Xihongmen Township over workplace safety, slack supervision and inspection by Daxing District firefighting detachment and Daxing District Branch of Public Security over the problematic apartment, as well as the ineffective handling by the industry and commerce department over illegal economic activities in the area.