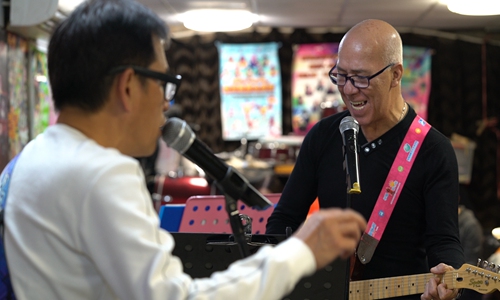 Filomeno Jorge (right) and a fellow Tuna Macanese band member practice at KEN TIN Association in Macao on December 11. (Photo: Cao Siqi/GT)
Special: 20th Anniversary of Macao's Return to Motherland
In Macao, there are a group of people who are descended from Portuguese. Most are Catholics but are very familiar with the Chinese social customs. Many of them have obvious "Western" features but are fluent in Cantonese and even in Putonghua (Standard Chinese).
They are the Macanese - an East Asian ethnic group that originated in Macao in the 16th century, consisting of people of predominantly mixed Chinese and Portuguese decent.
During the island's colonial period, many of the Portuguese traders married Chinese women. Their descendents grew up in Macao and developed their own distinct food, culture, and language. This mixed-race group now makes up less than 1 percent of Macao's population and their language, Patua, is dying.
Patua is a Portuguese-based dialect with a substrate from Cantonese. In 2009, the new edition of UNESCO's Atlas of the World's Languages in Danger classified Patua as a "critically endangered" language. The Atlas put the number of Patua speakers at 50 as of the year 2000.
Although the Macanese community is going to great lengths to save this language, it is mainly kept alive through literal notation, plays and songs.
Tuna Macanese is a band established in 1935 that originally consisted of more 30 Macanese members. It is currently one of the most prominent stars when it comes to efforts to preserve the culture by adapting the language into popular music.
Wearing unified red Polo shirts, the Tuna Macanese band, now consisting of seven members, just finished a performance at a musical carnival in the neighboring city of Zhuhai, South China's Guangdong Province.
Filomeno Jorge, the band's leader, has been looking for new blood for his band.
"All of us in the band are over 60," he told the Global Times.
"After we die, our music will die, and I can't let that happen."
According to the 62-year-old composer and guitarist, since Macao returned to China in 1999, the city has maintained its multi-cultural characteristics. The band's songs have also been adapted into Putonghua, spreading Macanese culture to the Chinese mainland.