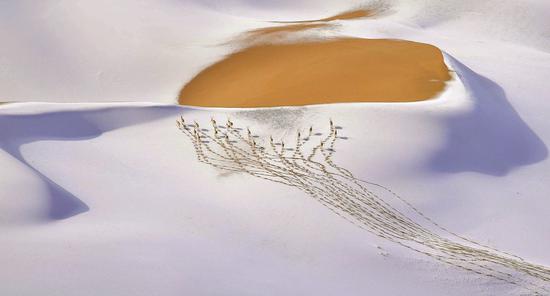 Snow-plateau Nomads by Fan Shangzhen, shot in the Altun Shan National Nature Reserve, is another image by a Chinese photographer on display. (Shangzhen Fan / Wildlife Photographer of the Year)
China's run of success in international photography competitions this year has reached a new high after Bao Yongqing was selected from more than 40,000 entrants to be named as Wildlife Photographer of the Year 2019 at London's Natural History Museum on Tuesday night.
The competition drew entries from more than 100 countries, and when the judging panel whittled the list down to the final 100, four of them were from China – more than from any other country.
Bao's win for his photo The Moment follows the success of Liao Jianhui in winning 2019's Food Photographer of the Year in May, and seven Chinese entrants making it down to the shortlist for this year's Astronomy Photographer of the Year competition in June.
Bao made his first visit outside China for the awards ceremony, where he received his prize of 10,000 pounds ($12,700), presented by China's ambassador to the United Kingdom, Liu Xiaoming.
The winning photograph, which has received international media exposure, captures a dramatic encounter between a fox and a marmot on the Qinghai–Tibet Plateau, in China's Qilian Mountains National Nature Reserve.
Bao told China Daily he was delighted to win the prize, but was even more happy to have the opportunity to show the world about the unique wildlife and environment of his home region.
"To win the award was not my purpose, but of course, I am more than happy to get it. My main purpose is to get people to know more about the wild animals, to love them and protect them," he said.
"This competition is the top one around the world, especially in the field of wildlife photography, and many Chinese wildlife photographers have done very well.
"First, we hope to promote the species of wildlife in our country on this platform. Second, we try to raise awareness to pay more attention to the environment where the wild animals live."
Bao said that in the Qinghai area where he comes from, conservation is a way of life.
"People there have inherited a tradition to protect wildlife, from generation to generation. They would in no way kill animals randomly. Instead, they put their hearts into conservation and have done it in an excellent way.
"20 years ago, a Chinese photographer called Xi Zhinong won an award in this same competition. He is my idol. I want to promote my works to the outside world through this publicity. Another reason is that I want more people to recognize the importance of protecting animals, and nature. This is what I have been focusing on for a long time."
Chair of the judging panel, Roz Kidman Cox, told China Daily choosing was a tough job but the panel had selected a worthy winner.
"Every time you look at it, you say 'wow, this is special' and it stays with you," she said.
"When we judge, we don't know the photographer, the backstory or anything, so we judge purely on the image. In the past we've had strong environmental images win but I think this time it's lovely to have a real animal behavior photo win.
"This picture has action and artistry, it's not just a powerful behavior shot, it stays with you – we had half a day debating the overall winner and in the end, everyone agreed on this one."
Bao was not the only Chinese photographer to attend the exhibition's preview and talk about his work.
Cai Songda, whose photograph Blackwater Light Trails was highly commended in the Habitats Under Water class, was also in attendance and told China Daily he was thrilled to see a fellow Chinese photographer do so well, with a picture taken in China.
"In China there are many wild animals that foreigners don't know about," he said.
"Last year the winner was a photo of a monkey from China, but taken by a foreigner. This year we have the winner from China, who has taken a photo of our country. I'm very happy to see this."
Wildlife Photographer of the Year is developed and produced by the Natural History Museum, London, one of the city's most famous and popular visitor destinations, and this year's event is the 55th time the competition has been held.
The top 100 photographs will be on display at the museum in Kensington until May 31, 2020 and entries for next year's competition will be accepted from Oct 21.