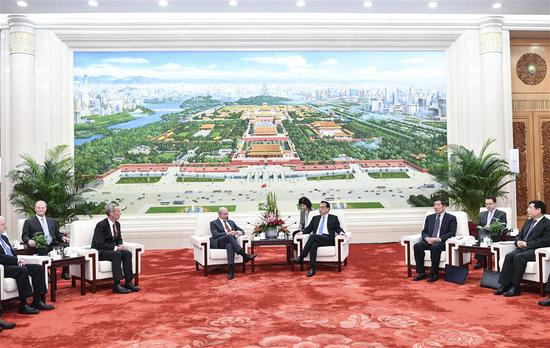 Chinese Premier Li Keqiang meets with a business delegation from the United States, which is led by Chairman of the U.S.-China Business Council (USCBC) Evan Greenberg, at the Great Hall of the People in Beijing, capital of China, Oct. 17, 2019. (Xinhua/Yin Bogu)
Premier Li Keqiang extended messages on Wednesday welcoming businesses from different countries, including the United States, to expand investment and win-win cooperation in China. He said China's growth is offering opportunities to the whole world.
The remarks came as Li met with a delegation of business leaders with the U.S.-China Business Council, led by its chairman, Evan Greenberg, at the Great Hall of the People in Beijing.
Li said there are enormous business opportunities and potential in the Chinese market, given that China has a population of close to 1.4 billion people and its retail sector is still upgrading.
He reiterated that China will not put a stop to its opening-up. Instead, it will only become more open to the world.
"China has fully opened up its manufacturing sector, and the level of opening-up in services, including the financial sector, is being stepped up," he said.
He also reaffirmed the country's commitment to developing a world-class and market-oriented business environment that is governed by a sound legal framework.
"The intention is to level the playing field for all types of market players, whether domestic or foreign," he said.
He also vowed more stringent protection of property rights and intellectual property rights.
Li hailed the constructive role of the U.S.-China Business Council, formed even before the two countries established diplomatic ties, in promoting bilateral relations and win-win cooperation.
The council was founded in 1973, six years before China and the U.S. established diplomatic relations.
It is important for China and the U.S., the world's largest developing and developed countries, respectively, to maintain healthy and stable relations, which can benefit both parties and the whole world, he said.
He called on both nations to follow the consensuses reached by their presidents, advance a relationship featuring coordination, cooperation and stability and solve related problems through dialogue and consultations on the basis of equality and mutual respect.
It is also important for both countries to take on a long-term perspective and keep their feet on the ground in pushing forward the growth of trade and economic relations on the right track, he said.
He expressed hope that U.S. business leaders, including those with the U.S.-China Business Council, will continue to play an active role in promoting the growth of bilateral ties and enable better understanding between the two peoples.
Greenberg, also chief executive officer of the Chubb insurance company, said this is an important period in U.S.-China relations, adding that disengagement is not in the interests of either side.
"In our two nations' shared history, many important aspects would suggest cooperation and engagement have benefited both our nations," he added.
Other delegates also expressed the hope that both countries can seize the opportunity to achieve a substantial trade agreement.