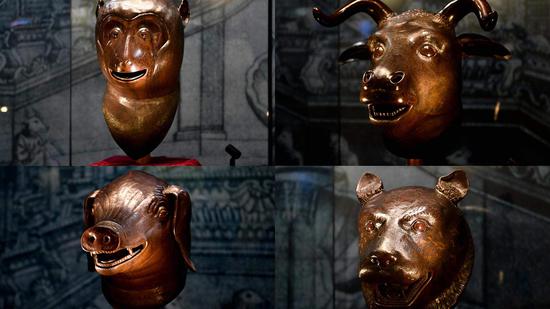 CGTN Photo
Four national treasures: The bronze heads of ox, tiger, monkey and pig of Yuanmingyuan, known as the Old Summer Palace, are on display in Lianyungang, China's eastern Jiangsu Province.
The four pieces of precious relics are among the 12 animal head sculptures representing the Chinese zodiac. These were part of the famous "water clock-fountain" at the Old Summer Palace.
Sore memory in history
The bronze animal heads among countless other treasures in the Old Summer Palace were looted by Anglo-French troops during the Second Opium War in 1860.
The Old Summer Palace, first constructed in 1707 and expanded for the next 150 years is five times the size of the Forbidden City. Renowned for the exquisite garden design and architectures, the palace, extolled as the "Garden of Gardens" and "Versailles of the East" on its heyday was burned to the ground by its intruders.
In 2006, UNESCO has estimated that over 1.6 million Chinese relics were in the possession of 47 museums worldwide, and one million among them are from the Old Summer Place.
Today the palace grounds are an extensive park, with the rubble of smashed buildings that remind us of the sore memories of the past.
Long journey back home
For these lost treasures, it wasn't an easy journey back home. They have traveled across the world, even listed for auction multiple times.
The bronze heads of the ox, monkey, tiger, and pig, currently on display, have been under the hammer at high prices.
In 2000, China's Poly Group Corp. bought the ox, monkey and tiger head for a total of four million U.S. dollars at Christie's and Sotheby's auctions. In early 2003, the pig head was bought and donated to Poly Art Museum by Stanly Ho, a Chinese billionaire based in Macao.
In 2007, Stanly Ho purchased and donated the fifth piece, the horse head to the museum before it was auctioned in Hong Kong.
Two more of the animal heads – the rat and the rabbit were controversially auctioned by Christie's in France in 2009. Chinese entrepreneur Cai Mingchao won the bid but refused to pay, which was then resolved with the donation of the French Pinault family at over 35 million U.S. dollars.
The two statues were put in the National Museum in Beijing, after the Pinault family returned them in June, 2013.
Until now, seven of the twelve animal heads have been retrieved since 2000. The dragon head was said to be kept in Taiwan but remains unseen.
Unfortunately, the whereabouts of the bronze heads of Snake, Goat, Rooster, and Dog are still unknown.