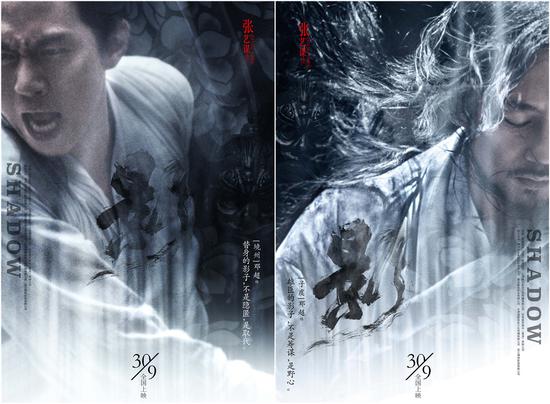 Two posters show the characters of the military officer Zi Yu and his double Jing Zhou, both played by actor Deng Chao. (Photo/Courtesy of Le Chuang Entertainment)
Zhang Yimou's new period historical epic "Shadow" is set for National Day holiday release and will showcase unprecedented Chinese visuals in the martial arts production.
The eminent Chinese director worked on the script with his team for three years before taking almost two years for filming and post production. Set in the period of the Three Kingdoms in Chinese history in the third century A.D., it tells the story about a "nobody," who had been imprisoned since he was eight years old and refuses to accept his fate as a puppet double, fight his way to gain back his freedom.
Le Chuang Entertainment, formerly Le Vision Pictures, Perfect Village Entertainment, Tencent Pictures, and Bona Film Group produced the film, and stars included Deng Chao, Sun Li, Zheng Kai, Wang Qianyuan, Hu Jun, Wang Jingchun, Guan Xiaotong and Wu Lei. Variety magazine polled its international team of critics last December to select the 20 most anticipated films of 2018, and "Shadow" is one of them.
Deng Chao will play two roles in the film; one as a local military officer, the other as the officer's shadow double. It is interesting to note, the actor's real-life wife, actress Sun Li, will play the role of the officer's wife in the film.
The film will be unique, even for Zhang's unique martial arts universe which includes the film "Hero," since "Shadow" employs unprecedented classical artistry of Chinese ink wash painting integrated into the film. The director said he is inspired by the beautiful and poetic scenery of China through history, and he believes the implicit and introverted approach will provide the audience with a distinctive visual experience.
Distributors of "Shadow" announced on Wednesday its release date for Sept. 30, the eve of China's 7-day National Day vacation, in an attempt to dominate the holiday film season which serves as a golden opportunity and platform for Chinese films to profit and make their mark in history.