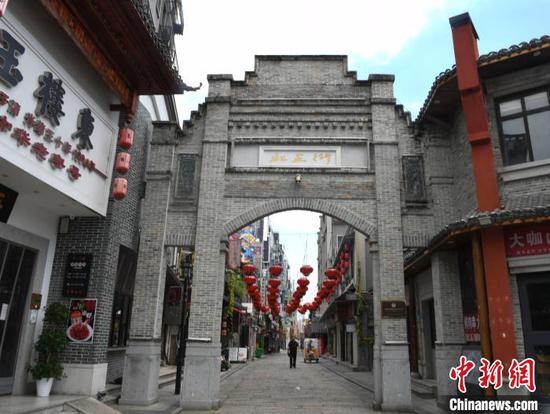 A street in Changsha, central China's Hunan Province. (File photo/China News Service)
(ECNS) - An immersive and slow-paced Citywalk is gaining traction across China.
Li Ling, who has worked in Changsha, central China's Hunan Province for eight years, signed up for a Citywalk event over the weekend.
In contrast to rushing past overcrowded tourist landmarks, the new trend has emerged as a popular alternative to explore bustling markets, ancient streets, and charming alleys at a leisurely pace.
Li has enough time to enjoy the culture of the 2,000-year-old city.
The appeal of Citywalk resonates particularly with the younger generation often caught up in demanding work schedules, leaving little time for local exploration.
As evidenced by the surging popularity of hashtags like "Citywalk for vacation" on lifestyle sharing platform Xiaohongshu, with a staggering 465 million views and nearly 464,600 engagements, the trend is truly capturing attention.
Citywalk is not merely about sightseeing. It creates an opportunity for social interactions and deep connections with the cities under exploration.
Consequently, Citywalk organizers have emerged, including the likes of Xiao Yiyi, a young organizer. She has meticulously crafted six Citywalk routes in renowned tourist destinations in Yunnan and Hunan provinces, Xinjiang Uyghur Autonomous Region and Tibet Autonomous Region.
Additionally, plans for two more routes in Quanzhou City, the starting point of the Maritime Silk Road, and Lanzhou City, an important hub along the Silk Road, are currently in the pipeline.
These organizers carefully curate routes that efficiently reveal the cultural geography, local customs, and other distinctive aspects of each city. At times, researchers and enthusiasts are invited to share their expertise, facilitating meaningful exchanges with participants.
Xiao Yiyi, for instance, strives to immerse tourists in what she describes as "open-door museums." In the case of Changsha City, both routes were designed not only to include visits to historical sites but also to provide opportunities to indulge in famous street snacks like Changsha-style shrimp and stinky tofu.
Citywalk routes are tailored to the specific interests of both out-of-town tourists and locals. "For tourists, the focus is on sharing local customs and traditions, while for locals, discussions revolve around the city's past, present, and future," noted Xiao Xiao, another organizer.
As Citywalk expands beyond first-tier cities like Beijing, Shanghai, and Guangzhou, to second- and third-tier cities across the county, it brings forth fresh opportunities for the tourism industry, in such areas as dining, shopping, and accommodation.
Governments in Beijing and Shandong have recognized the potential of Citywalk, incorporating it into their action plans to promote cultural tourism and leisure activities. In Shanghai, dedicated public bus routes have been introduced to elevate the overall Citywalk for participants.
The burgeoning trend of Citywalk reflects a shifting attitude towards life, embracing a warmer, more relaxed, and slower-paced lifestyle.
"By slowing down and delving into the narrow alleys, observing the lives of city residents, and immersing oneself in the context of museums and art galleries, one is entitled to embrace the pleasure of life. Many young people eagerly partake in themed routes centered around coffee culture and explore cities with breathtaking natural landscapes, which further enhances the appeal of Citywalk.," said Luo Jun, a cultural tourism enthusiast from Central China's Changsha city.
However, currently, Citywalk focuses only on leisure and social interaction.
Industry experts suggest further diversification through collaborations with local art and cultural institutions, businesses, and museums, as well as intercity coordination.