(ECNS) -- According to media reports, Cambodian Prime Minister Hun Sen said recently that China's development benefits Cambodia and the entire ASEAN and it would be impossible to prevent China from growing.
Hun Sen also said vicious competition will lead to a lose-lose situation, and win-win results can only be achieved through enhancing cooperation. Cambodia will not join any campaign to destroy any other countries.
In response to Hun Sen's remarks, Chinese Foreign Ministry spokeswoman Mao Ning said they speak to regional countries' aspiration to have peace and cooperation over conflict and confrontation and opposition to coercion and bullying.
It also shows that ganging up in the region to seek decoupling or sever supply and industrial chains finds little support, the spokeswoman said.
She noted that China is committed to deepening mutually-beneficial cooperation with regional countries guided by the principles of amity, sincerity, mutual benefit and inclusiveness.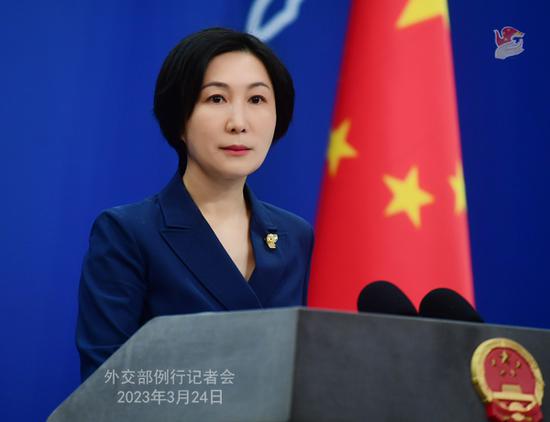 Chinese Foreign Ministry spokeswoman Mao Ning speaks at a regular press conference in Beijing, March 24, 2023. (Photo/fmprc.gov.cn)
The Regional Comprehensive Economic Partnership Agreement, which entered into force last year, has led to a significant 15% increase in China-ASEAN trade, she said.
Export of agricultural products from ASEAN to China, which is of particular importance to ASEAN countries, increased by 21.3 percent, while longan from Cambodia, fresh durian from Vietnam, passion fruit from Laos, among others, have all entered the Chinese market, according to the spokeswoman.
China advocates and promotes an open world economy, she said, adding that as the country accelerates high-level opening-up and advances high-quality development, it will provide sustained impetus for the economic recovery and growth of the rest of the world, including neighboring countries.