(ECNS) —The subjects and policies discussed during the top legislative and political advisory meetings (or the Two Sessions) further demonstrate China's resilience, and the country's scientific and technological development and rural revitalization strategy are of great significance, said Alessandro Teixeira, special economic adviser to former President of Brazil, Dilma Rousseff.
Teixeira, now a professor of public policy at Tsinghua University, shared his opinions on the future development of China, the world's second-largest economy, during an interview with China News Network.
Teixeira stated that China's participation in the world GDP has increased and has been increasing in the last decade. Speaking of China's goal of achieving high-level growth, of 5 percent, he praised the country's dynamism and potential, saying "if the world arrives at a growth of 1 percent or 1.5 percent, one of the direct reasons responsible for that is the Chinese economy".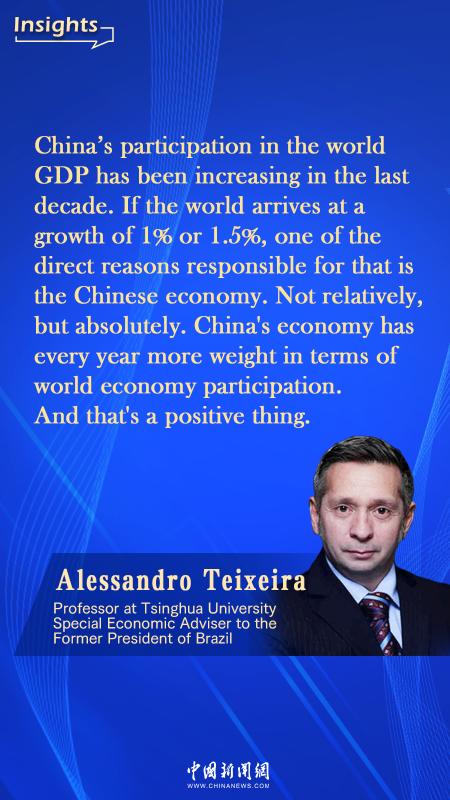 Brazilian economist: China's growing participation in world GDP growth is positive (Photo: China News Network/Wang Luyao)
In his eyes, the Two Sessions are a perfect window for the world to appreciate China's resilience, not only in terms of macro-economy, but also the all-around effort in promoting science and technological development. Teixeira attributes the progress to innovation and talent cultivation, citing the increasing number of universities and master or PhD students. He believes that China, backed by various policies, will secure a leading position in global scientific and technological innovation.
Teixeira is now living in Beijing and working at Tsinghua University. He came to China in 1998 and has been a witness to China's social and economic development. He said he was most impressed by China's digital transformation and mobile payments. He believes that in terms of coverage and convenience of broadband facilities, China is one of the few countries that can achieve the current level.
High-quality development demands comprehensive planning. As a big agricultural country, China still has nearly 500 million people living in rural areas. At the press conference after the closing of the first session of the 14th NPC, Premier Li Qiang stated that socialist modernization would be incomplete without agricultural and rural modernization. Teixeira also mentioned the importance of rural revitalization to China's common prosperity and modernization. "The only way China can achieve common prosperity is by application of very good and very straightforward policies in the rural areas," he said.
Modernization of production is not enough, he suggested, what is more significant is to bring opportunities for development to vast rural areas and promote rural modernization, helping rural residents to improve their living standards, so as to achieve all-around development.