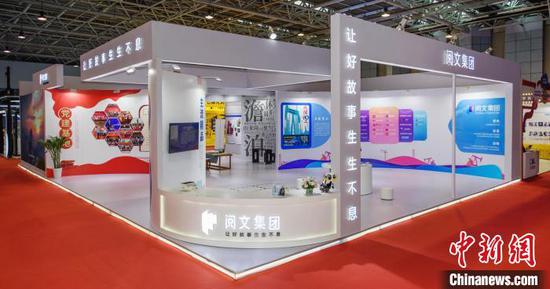 The exhibition hall of China Literature Limited at the China Online Literature + Conference 2021. (Photo/China News Service)
(ECNS) -- Sixteen Chinese web novels including My Heroic Husband, Great Power Heavy Industry, The Era of the Earth, and The First Order are among the first batch of Chinese online literature to enter the British Library, one of the world's largest academic resources, according to China Literature Limited.
Covering themes of science fiction, history, reality and fantasy, these works represent the classics of Chinese online literature over the past 20 plus years.
"Chinese online literature works going global means it is influencing foreign readers and enable them to learn more about China," said Qi Cheng, the author of Great Power Heavy Industry.
China Literature Limited, one of the largest online literature platforms, has authorized the foreign digital and print copyrights for more than 800 online novels.
In 2019, 10 online novels, Great Power Heavy Industry included, were collected by the Shanghai Library, and between 2020 and 2022, 144 online novels like Battle Through the Heavens and Lord of Mysteries entered the collection of the National Library of China.