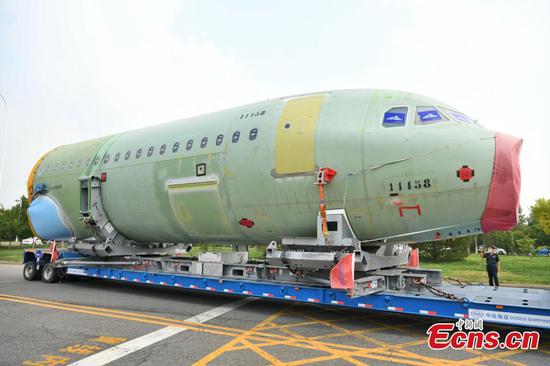 Two large parts of A321 aircraft, a nose and a fuselage, arrive at Tianjin Binhai New Area, Sept. 13, 2022. (Photo: China News Service/Tong Yu)
(ECNS) -- The first two large parts of the A321 single-aisle aircraft arrived at Tianjin Port on Wednesday.
It marks that European aircraft manufacturer Airbus is officially set to assemble the aircraft at its final assembly line in Tianjin.
The A321 is the biggest member of the A320 family. Each A321 can hold about 244 passengers for a typical cabin configuration, Airbus said.
Worldwide, Airbus has four A320 family assembly facilities. The Airbus Tianjin assembly line was put into operation in 2008, marking the third worldwide after the ones in Toulouse, France and Hamburg, Germany, followed by that in Alabama, the United States.
The aircraft manufacturer has expanded its capacity at all four assembly lines to meet the growing demand for the A321, it said.
Airbus delivered 596 A320 aircraft to global customers at its final assembly line in Tianjin by the end of August this year.