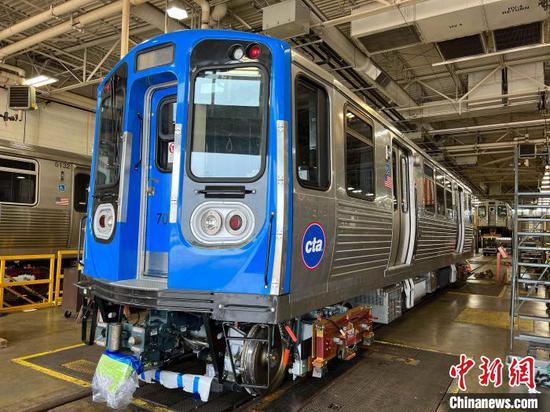 CRRC Qingdao Sifang Co., Ltd delivers a railcar to the Chicago Transit Authority, June 6, 2022. (Photo/China News Service)
(ECNS) -- CRRC Qingdao Sifang Co., Ltd, a subsidiary of China South Locomotive and Rolling Stock Industry (Group) Corporation (CRRC), delivered a 7000-series railcar to the Chicago Transit Authority (CTA) on Monday after a test run.
It marks that the largest railcar project exported by a Chinese enterprise to a developed country has officially entered the stage of delivery in batches.
According to technicians at CRRC Qingdao Sifang, the railcar uses many technologies and facilities that are convenient for passengers.
A new type of ultrasonic intelligent sensing technology allows the railcar to automatically detect platform height, automatically adjusting its floor height to enable passengers to get on and off with ease.
The railcar has also upgraded the passenger service system. Dynamic map broadcast and special visual and sound indication functions are set up to assist people with hearing and visual impairment. And excellent running stability can greatly improve the riding experience.
The railcar uses a real-time Ethernet control system for the first time, which has stronger network transmission and data processing capabilities, and improves the intelligence of malfunction diagnosis and operation and maintenance.
This batch of railcars will serve eight subway routes in Chicago.
CRRC Qingdao Sifang won the international bid for the 7000-series railcar project in 2016.
This is Chicago's largest purchase project of railcars ever, and it also sets a record for the largest number of railcars exported by Chinese enterprises to developed countries.