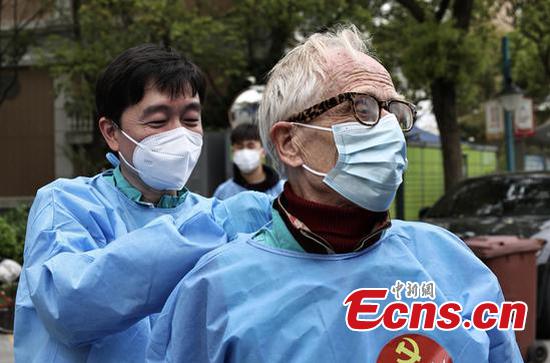 Bisterfeld(R)and his co-volunteers. (Photo/Provided by Xu Haoyu)
By ZHENG Yingying
(ECNS)SHANGHAI-- When a 12-year-old Dutch boy tuned in to Chinese radio broadcast on his shortwave radio and heard the signature Chinese song ringing in Wellington, New Zealand, he could not have foreseen that out of this would grow a lasting interest, nay, affection for China, let alone his firsthand experience through an epidemic outbreak there many decades later.
In an online interview with an ECNS reporter in April 2022, Jacob von Bisterfeld, a Dutch expat in Shanghai, told his Chinese story—with a Covid twist.
Born in Holland, Bisterfeld grew up in Wellington, New Zealand, after his family relocated there in his childhood. And after many tunings into Chinese radio broadcast at 6.00 pm every evening on his shortwave radio, he could sing the signature tune of the Chinese song in his sleep. Jacob was also greatly interested in the 5000 years' history of China and in particular, in the several magnificent excavations, from the Terra-Cotta Warriors in Xi'an, the Mogao and Longmen Grottoes to the ancient Sanxingdui Ruin Site and more. All of these were revealed in tantalizing detail in the "China reconstructs" magazine that he bought every month in the shop in Downtown Willies street.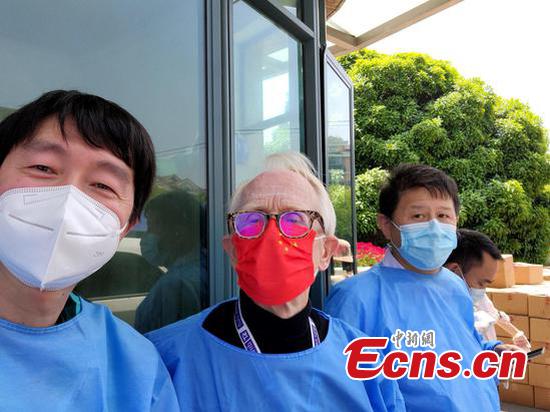 Bisterfeld(C)and his co-volunteers (Photo / Provided by Lu Yifan)
In 1992, he came to China and has since taken up residence here. He even has a Chinese name "Jiangqiang Luo", known by the locals as: "Lao Luo". He is now living in Songjiang, a southwestern district of Shanghai.
"Have you escaped the shop-fights?" He was asked by family and friends overseas just before the lockdown in Shanghai commenced. "Reports say everyone is fighting for goods in Shanghai's stores due to severe food shortages", to which Jacob retorted: " Another typical load of 'Fake news'! I just got back from a supermarket half an hour ago, where the shelves were full and there were hardly any shoppers. " Bisterfeld said that the majority of foreign news providers are often biased and negative in their China coverage, as bad and harsh news sells better than positive achievements.
"When my community announced the Covid lockdown, I figured that a number of volunteers would be required to look after the residents in the community, so I decided to be involved if that was possible. It's better for me to do something useful and contribute to society than idle away during the pandemic," he said.
During the lockdown, Jacob was called on daily, including weekends, rain or shine, to distribute antigen that needed to be supplied to every household, supervise nucleic acid testing, help unload the 2000 government-supplied food parcels weighing 9 kg each, carry out disinfection and collect medicine from hospitals and chemists'.
Bisterfeld was no stranger in volunteering, both in New Zealand, as well as in China. As the only foreigner in this neighborhood of about 2500 residents, Bisterfeld did his best to explain the control measures and housekeeping rules within the bounds of his Mandarin Chinese language proficiency. He did his best to explain the control measures in Mandarin with some accent: "Ni hao(Hi)! Here is a new pass. You can go out with it, but one person only, and once a day."
"Language," Jacob said, "is a vehicle for communicating, and we all communicated rather well."
"During the previous 13 years in Songjiang, I didn't really know my neighbors well. They were polite, often smiling or nodding to me. But I didn't know them personally", Bisterfeld said. "But I've got familiar with many of them now. Many of them come to my house and drink coffee or Chinese tea as the case may be in this quest of East meets West." He added.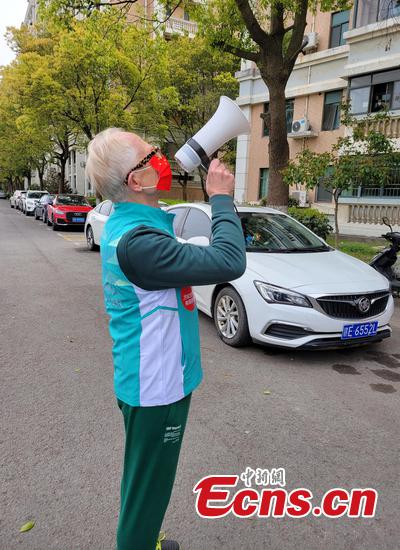 Bisterfeld serves as a volunteer in Shanghai. (Photo / Provided by Lu Yifan)
Bisterfeld has lectured for many years at several famous Shanghai Universities. Classes were suspended amidst the ongoing Covid pandemic. Joking he's "in retirement" now, he remains positive about starting over when everything gets back on track.
Since 2002, Bisterfeld has become a regular Newspaper article contributor; he writes mostly about China's achievements ."I truly feel that China's Covid control efforts and tangible successes are not duly appreciated outside the country so I'm doing my bit to let more foreigners see the real picture in China now," he said. As for any feeling of homesickness during the covid Pandemic lockdown in China, Jacob retorted that not being able to visit his family for 3 years in a row is not a big deal for him, especially since everybody has a smartphone now and we can see the family at a push of a button day and night. He really feels at home in China which he sees as a progressive and enlightened country.
And with so many new and dear friends, acquired during his recent bout of volunteering, Lao Luo said: I will stay here.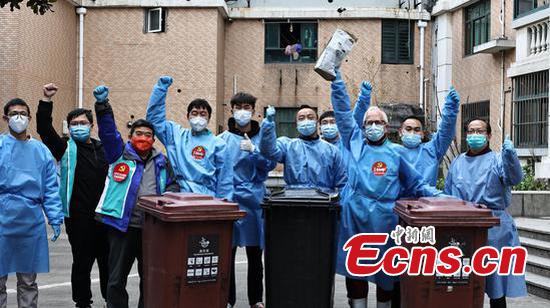 Bisterfeld and his co-volunteers work in Shanghai (Photo / Provided by Xu Haoyu)