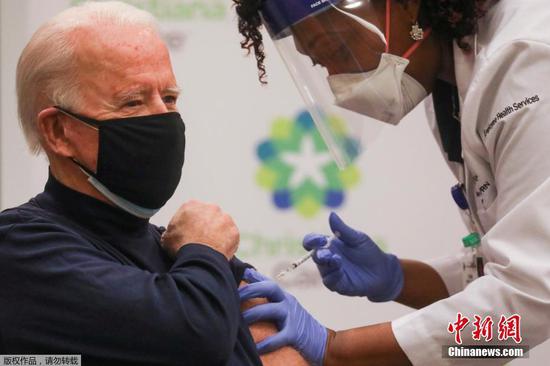 U.S. President Joe Biden receives the first dose of the coronavirus vaccine during a televised event in his home state of Delaware, Dec. 21, 2020. (File photo/Agencies)
Special: Commentary
By John Lee
(ECNS) -- The United States will likely fall short of President Joe Biden's goal of partially vaccinating 70 percent of American adults by Independence Day, said Jeffrey Zients, head of the White House COVID-19 response team, on June 22.
In addition to the delayed domestic vaccination goals, the U.S. government will also put off its plan to provide 80 million doses of vaccine assistance overseas set by the end of June as the White House announced on June 21 there was no guarantee the scheduled 55 million doses would be delivered by the end of this month due to "storage, transportation and language barriers."
As of June 27, more than 181 million COVID-19 cases were confirmed worldwide, and the figure in the U.S. has topped 33,620,000, according to Johns Hopkins University. Under current conditions, vaccines are still the most powerful weapon against COVID-19 and should be allocated in time. However, the U.S., which has sufficient vaccine reserves, suffers from serious procrastination and seems unable to fulfill its promises.
The U.S. government is blaming young Americans for failing to meet domestic vaccination targets, claiming they think COVID-19 has little impact and therefore, are less willing to get vaccinated. However, their so-called "less willing" is largely due to the fact that the U.S. government did not pay enough attention to the virus in the early stages of the epidemic. Former U.S. President Donald Trump even referred to the coronavirus as the "corona flu", which misled many Americans and caused the delay of vaccination goals.
In terms of global vaccine assistance, although Biden had announced his administration would share 80 million doses of vaccines with other countries before the end of June, he just released a detailed distribution plan about one week before the deadline for implementation. It's true that vaccine assistance faces storage, transportation and language barrier difficulties, but if there is a practical plan, these issues would not delay delivery.
As a major power in the world, the U.S. should have formulated a corresponding plan in the beginning and taken all kinds of factors into consideration in advance, instead of passing the buck when its goals cannot be achieved. The U.S. government and White House think tank should have foreseen the so-called "difficulties" mentioned above.
Correct popularization of epidemic prevention knowledge can help boost vaccination among the youth. Developing and implementing a vaccine assistance plan in advance can help ensure in-time delivery. As for language barriers, it is unlikely to have a significant impact on vaccine distribution. To sum up, the U.S. government's goals cannot be achieved, not because it cannot, but because it does not want to, with such "procrastination" a matter of attitude.
Amid U.S. "procrastination" in vaccination and global assistance, people can't help wonder whether the so-called goals and promises given by the U.S. government are feasible, and whether it is based on actual conditions or just a "political show".
In the face of a spreading virus and increasing cases, it is better for the U.S. government to popularize epidemic prevention knowledge and vaccinate the American people than find an excuse for "procrastination". The most important thing for the U.S. now is to distribute every dose of vaccine to those who really need them as soon as possible.