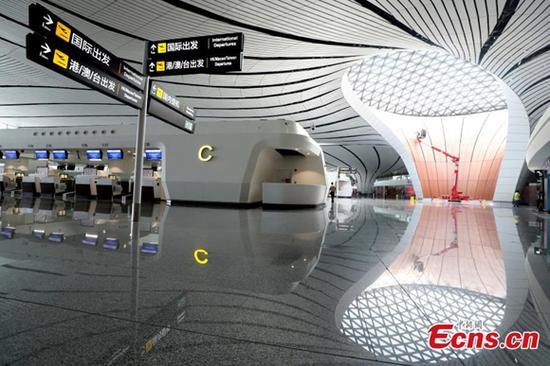 Photo shows the terminal building of the Beijing Daxing International Airport in Beijing, Sept. 4, 2019. (Photo/China News Service)
Special: 70th birthday of PRChina
(ECNS) -- China Mobile's 5G network will cover nearly 6 million square meters in the newly opened Beijing Daxing International Airport, offering download speeds of up to 1,000 Mbps.
The telecom giant's airport service center also makes use of smart technology to facilitate access to the ultra-fast mobile network through self-service devices that allow passengers to apply for all kinds of services easily and quickly.
It also offers international roaming services valid in 170 countries, with the lowest daily fee at 10 yuan ($1.4) and zero deposit. Family members or friends can enjoy other incentives.
The airport center also provides friendly services to disadvantaged passengers such as the blind or those in a wheelchair.