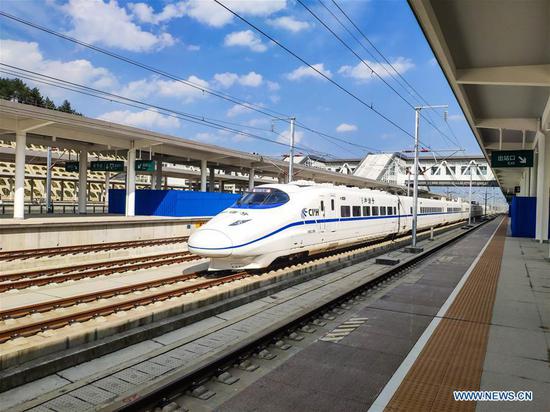 A bullet train passes Bijie Railway Station during a test run on the Xingwen-Guiyang section of the Chengdu-Guiyang railway in southwest China's Guizhou Province, Oct. 9, 2019. (Xinhua/Tao Liang)
China is putting to use an updated train diagram starting this Friday. A new batch of high-speed trains will start running, China State Railway Group Co Ltd said on Thursday.
According to the new diagram, 160 passenger trains and 95 cargo trains will be added across the country.
The adjustment will elevate China's passenger trains in operation to 9,139, of which 6,739 are bullet trains. The number of cargo trains in operation will also increase to 19,295.
Railway transport capacity will be further enhanced and several stops will be adjusted to better facilitate people's travel, according to the company.
The Nanjing-Qidong Railway, as part of national high-speed railway network and inter-city rail network in the Yangtze River Delta, will be put into operation for the first time, with around 41.5 train round trips running on the line in east China's Jiangsu Province.
The Meizhou–Shantou railway in south China's Guangdong Province will start operation on Friday as well with two round trips, cutting the travel time from 5.5 hours to three hours, which is expected to strengthen exchanges between the two provinces.
An additional three trains will be added, to the connections between Shenyang - Dandong, Shenyang - Benxi and Benxi to Liaotong in northeast China's Liaoning Province .
The travel time between Jinan to Rizhao in east China's Shandong Province will be shortened from four hours to three hours. Another five round trips will be launched between Qingdao to Yantai and Qingdao to Weihai, respectively.
(With input from Shanghai Daily)