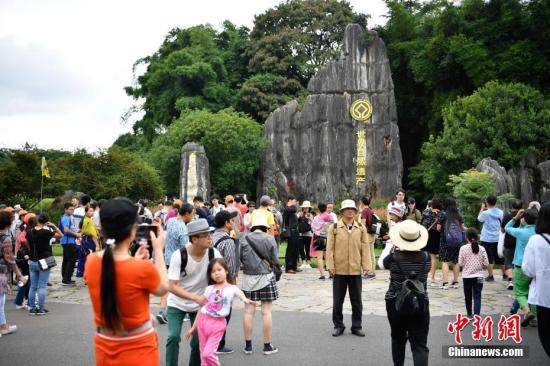 Tourists visited Southwest China's Yunnan Province. (File photo/China News Service)
Special: 70th birthday of PRChina
(ECNS) -- Southwest China's Yunnan Province has further strengthened efforts to provide smart tourism services, Governor Ruan Chengfa said at a press conference in Beijing on Monday.
Tourists can use an app to find information during their stay in the province, including details about food, transportation and shopping.
One notable feature of the app is Smart Toilet, which enables tourists to check information about toilets in real time and find less-crowded bathrooms.
Due to the higher altitude of Yunnan and the possibility that some tourists may faint in bathrooms, the app will remind working staff to check if it is occupied for more than 20 minutes by the same person.
Ruan said authorities have also increased their response time to traveller complaints to five hours, on average.
Another measure to boost tourism services is the establishment of centers at airports and key tourist attractions to deal with complaints about shopping. Customers are now guaranteed they can return goods purchased in Yunnan within 30 days.
The province began a campaign to support the development of tourism last August.
The efforts are paying off with dramatic progress. The province's tourists and tourism revenue has increased by 24.5 percent and 35.5 percent each year on average over the past five years.