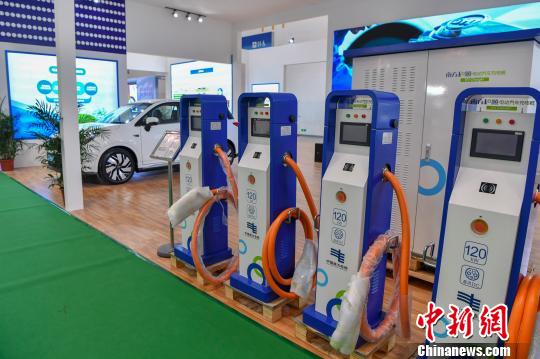 EV charging piles were displayed at an expo. (File photo/China News Service)
Special: 70th birthday of PRChina
(ECNS) -- China has developed the largest network of electric-vehicle charging facilities in the world, with 1.002 million EV charging piles built by the end of June, said Li Fulong, head of development and planning at the National Energy Administration, on Thursday in Beijing.
As an indicator of the growing popularity of EV cars, the proportion of electricity in the country's total energy consumption has been increasing in recent years.
The structure of power sources in China has also continued to be optimized, with more electricity produced by non-fossil sources such as wind, nuclear and solar energy.
China's crude oil output increased to 95.39 million tons in the first half of the year and realized a year-on-year growth of 0.8 percent, the first increase in three years, according to Li.
Investment into China's oil and gas exploration industry increased by 34.1 percent year-on-year, 31.3 percentage points higher than the same period last year, while investment into renewable energy power generation increased by 36.3 percent year-on-year, he added.
In the first half of the year, total investment in China's energy industry increased by 1.9 percent year-on-year.