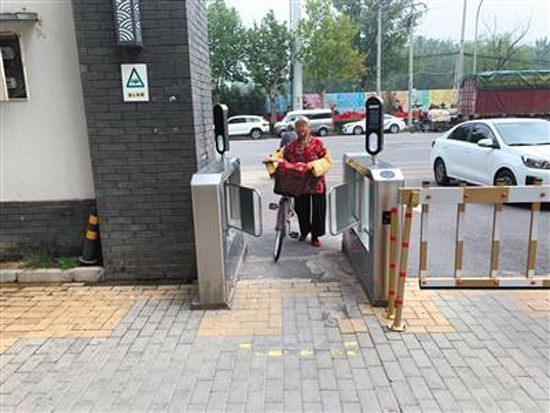 Facial recognition technology has been applied at the gate of a public housing complex in Beijing. (Photo/Beijing News)
(ECNS) -- Beijing plans to apply facial recognition technology to combat public housing abuse such as illegal subletting in all 59 residential projects by the end of this October, Beijing News reported.
The technology is already in use at 13 projects and can help ensure the safety of residents by denying access to strangers, according to Beijing public housing center.
The Yueyuan Siqu project in the city's Fengtai District, home to 760 government-funded homes, was the first to apply facial recognition in the capital last November. Residents here need to face a scanner before the door opens automatically.
Beijing bans subletting of public rental homes and the new technology can ensure proper use, said Shi Zhibing, deputy director of the center.
Shi added that as more data is collected, residents can expect to have better services. For example, if some elderly tenants who live alone have no entry and exit record for a period of time, a visit to their home can determine if they need some help or not, according to Shi.
The system will not bar frequent visitors such as couriers as their information will also need to be registered.