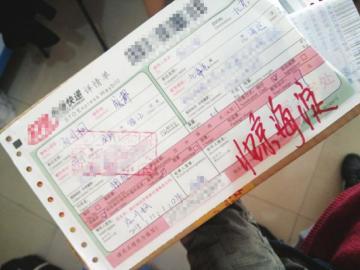 A parcel sheet.(Photo/Huaxi Metropolis Daily)
Special: 70th birthday of PRChina
(ECNS) -- A unique personal identification tag may replace the traditional 6-digit postal code in China in future, according to a plan advocated by State Post Bureau Development Research Center and the Shikong Big Data Innovation Center at Peking University.
As a way to cope with explosive growth in express delivery, the plan envisions assigning each person a unique code for their personal address and each package with an ID tag that includes information about the courier and tracking.
The plan, proposed under a national key research project into a system for global location coding, can reduce costs in distribution and vehicles, helping usher in an era of unmanned express delivery, reported Beijing Business News, citing industry experts.
The plan would enable people to register exclusive address codes with their personal ID and then use these codes to receive packages, said Zhou Xiaoguang, a professor with Beijing University of Posts and Telecommunications.
The new code system is characteristic of locatable, indexable, computable and of automatic spatial association.
For courier companies, the new system could cut the area needed in logistics sorting warehouses by 27 percent, the number of vehicles by 71 percent, human courier workers by 41 percent and reduce the total shipping cost by 44 percent, he added.