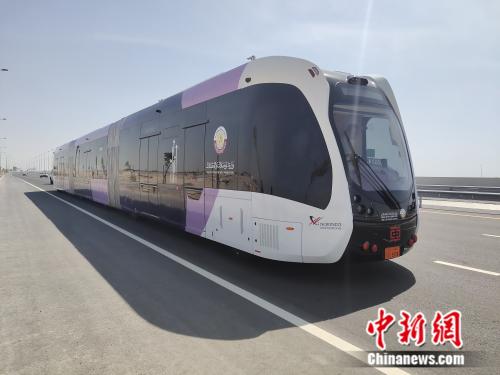 The smart electric vehicle. (Photo provided by CRRC Zhuzhou Electric Locomotive Research Institute)
Special: 70th birthday of PRChina
(ECNS) - The trackless Autonomous Rail Rapid Transit (ART) system, designed and manufactured by CRRC Zhuzhou Electric Locomotive Research Institute, has performed well under hot conditions in Doha, capital of Qatar, where testing began last Wednesday.
The smart electric vehicle, seen as a crossover between a bus, train and tram, ran on an existing road for 70 kilometres, instead of conventional rail tracks. The test is to examine the power, flexibility, air conditioning performance, and energy consumption of the vehicle under high temperatures and humidity.
Engineers at the test site said Doha's land surface temperatures in July reach 70 degrees Celsius, which is likely to cause battery explosions.
The test will be carried out over more that two weeks under the supervision of a third party. After the test, the Ministry of Transport and Communications in Qatar will organize experts to make a comprehensive assessment.
Peng Zhonghong, general manager of the company's urban transportation division, said the R&D team made changes to the vehicle to adapt to the high temperatures in Doha.
So far, smooth progress has been made with the test and all indicators are in line with expected standards.
This is also the first overseas trial run for the system, to be put into use for the 2022 FIFA World Cup in Qatar. The system will also support the country's faster urban transportation goals, part of the development plan Qatar National Vision 2030.
In February, the system underwent testing in cold conditions in Harbin in Northeast China's Heilongjiang Province.
The trackless 'rail bus' collects information through vehicle-mounted cameras, radar and other equipment, saves the trouble of laying rails, cuts costs, and ensures zero emissions. The system has been used in several Chinese regions, including Yongxiu County in Jiangxi Province and Yibin City in Sichuan Province.