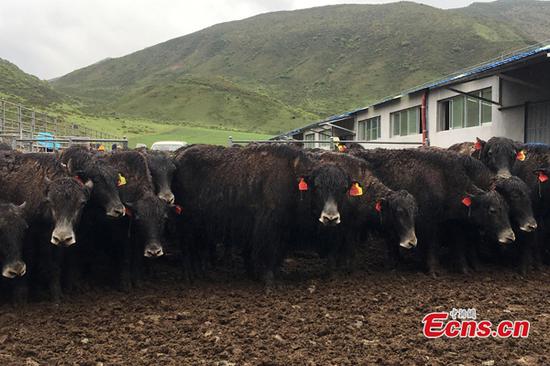 Hornless Ashidan yaks in Qinghai Province. (File photo/China News Service)
(ECNS) -- After more than 20 years of effort, Chinese researchers have announced the successful breeding of a hornless yak in northwest China's Qinghai Province.
The new breed was cultivated by Yan Ping and her team from the Lanzhou Institute of Husbandry and Pharmaceutical Sciences of the Chinese Academy of Agricultural Sciences.
Yan said yak horns can wound others or cause damage to shelters and other facilities, making them unsuitable for large-scale intensive breeding.
The new breed, which has been named Ashidan after the 4,380-meter-high Ashidan Mountain that looms over the Datong Yak Breeding Farm, has no horns and has a mild temperament, so it is easier to keep and feed in stalls.
Researchers from many countries have been racing to breed hornless livestock, and the Ashidan yak will be cultivated for its meat, Yan said.
The new breed has a similar physique and general appearance to existing local yaks but will perform better, according to Ma Jinshou, head of the farm.
Qinghai has a total area of 720,000 square kilometers, of which 96 percent is pastoral land at an altitude of more than 3,000 meters. Qinghai has 4.8 million yaks, one-third of the world's population of the species.