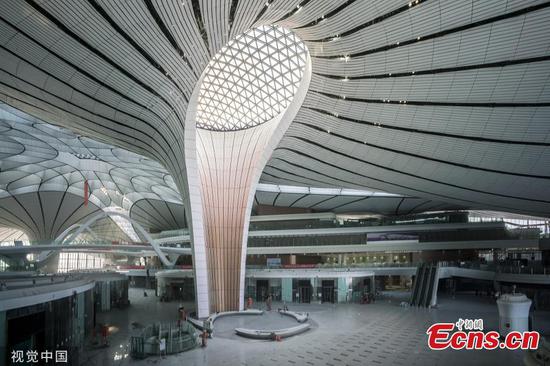 An inside view of the Beijing Daxing International Airport in Beijing on June 1, 2019. The airport will be put into operation before Sept. 30, according to the country's civil aviation authorities. Interior decorating and the installation and testing of electromechanical equipment are underway and will be completed this month. (Photo/VCG)
Special: 70th birthday of PRChina
(ECNS) -- Beijing Daxing International Airport will apply intelligent technologies such as facial recognition in all security channels, said Zhang Rui, deputy director of the Airports Division of the Civil Aviation Administration of China, on Thursday.
After passing through facial recognition, passengers can immediately gain access to data such as flight numbers, boarding gate positions and boarding times.
The airport, which will be put into operation before September 30, uses RFID technology for baggage tracking, allowing passengers to easily track their baggage in real time using an app, according to Zhang.
He added about 86 percent of check-ins will be automatic and that baggage checked in via self-service kiosks will account for 76 percent of the total.
The new airport sits at the junction of Beijing's southern Daxing District and Langfang, a city in Hebei Province. It is expected to handle 45 million passengers annually by 2021 and 72 million by 2025.