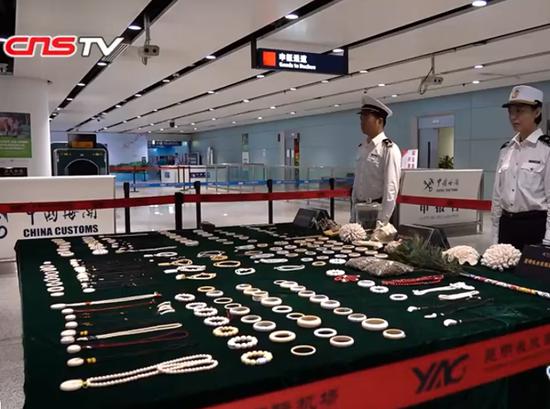 Ivory products seized during checks at Changshui International Airport are displayed in Kunming, Yunnan Province, May 8, 2019. (Photo / Screenshot on CNSTV)
(ECNS) -- Customs authorities in southwest China's Kunming city on Wednesday displayed more than 200 ivory products seized during checks at Changshui International Airport.
The items, mostly bracelets and other accessories, have been placed in view of departing passengers to highlight the crackdown on the smuggling of endangered species and their products.
Li Jingchao, a customs officer at the airport, said high-tech equipment, including CT inspection machines and millimeter wave scanners, are used to ensure that the luggage of passengers undergoes thorough checks.
A passenger was caught attempting to evade customs checks and bring ivory products into the country on March 9. He hid five ivory bracelets and other accessories in tea containers and shoes, but all were detected and stopped by CT inspection machines.
Since the launch of a campaign to curb ivory smuggling on January 9, Kunming Customs has seized a total of 451 ivory products, weighing a total 15,938.84 grams, at various ports in Yunnan Province.
According to customs staff, most of the passengers carrying ivory products into the country said they had no knowledge of Chinese laws and regulations prohibiting them.
Kunming Customs has urged the general public to not buy ivory products while traveling abroad.