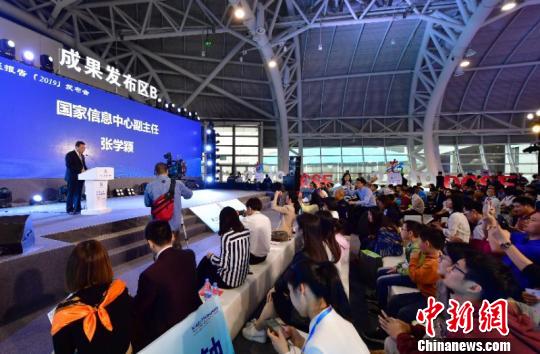 The Mobile Payment Development Report 2019 is released at the second Digital China Summit in Fuzhou City, Fujian Province, May 6, 2019. (Photo/China News Service)
Special: 70th birthday of PRChina
(ECNS) - Shanghai, Hangzhou and Beijing are the top three cities for robust development of mobile payment in China, according to a report released on Monday during the second Digital China Summit in Fuzhou City, Fujian Province.
The Mobile Payment Development Report 2019, composed by the State Information Center, the China Economic Information Center, and Ant Financial, an affiliate company of Chinese e-commerce giant Alibaba, outlined the relationship between mobile payment and a city's competitiveness from three dimensions -- infrastructure, commercial consumption, and governmental affairs and people's livelihoods.
According to the report, the top 10 cities in the mobile payment index are Shanghai, Hangzhou, Beijing, Wuhan, Chongqing, Tianjin, Shenzhen, Guangzhou, Wenzhou and Nanjing. Those cities are mainly located in China's three economic hubs, Beijing-Tianjin-Hebei, the Yangtze River Delta, and the Pearl River Delta.
Data also showed that China's digital economy reached 31.3 trillion yuan in 2018, accounting for 34.8 percent of its GDP.
Zhang Xueying, deputy director of the State Information Center, said the booming digital economy is closely linked to the growth of mobile payment, a new driving force in China's economic development.
Cao Wenzhong, vice president of the China Economic Information Center, said that in recent years, mobile payment has expanded rapidly into many areas.
Yang Peng, vice president of Ant Financial, said mobile payment plays a huge role in promoting urban economic growth, improving the employment environment, helping government go digital, promoting inclusive financial development, and promoting consumption.