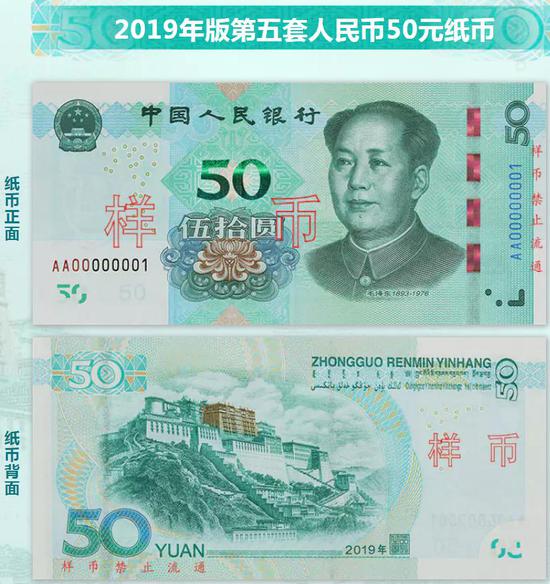 Sample banknotes of 50 yuan. (Photo/The Central Bank website)
(ECNS) - The People's Bank of China will issue its fifth series of banknotes and coins from August 30 this year.
The 2019 edition includes 50, 20, 10 and 1 yuan banknotes as well as 1 yuan, 5 jiao and 1 jiao coins.
While major elements will remain unchanged with some minor adjustments, the new banknotes will use advanced anti-counterfeiting technology and printing quality that enables the public and equipment to easily verify authenticity, according to a statement from the central bank.
The typeface denomination numeral on the obverse of the new 1 yuan coin is adjusted and the floral pattern on the reverse is scaled down proportionately. The diameter of the coin is reduced from 25mm to 22.25mm.
The new edition does not include 5 yuan notes because their circulation is relatively small. They have been reserved for new technology research.
The fifth RMB series will circulate in parallel with previous editions with the same face value, it was added.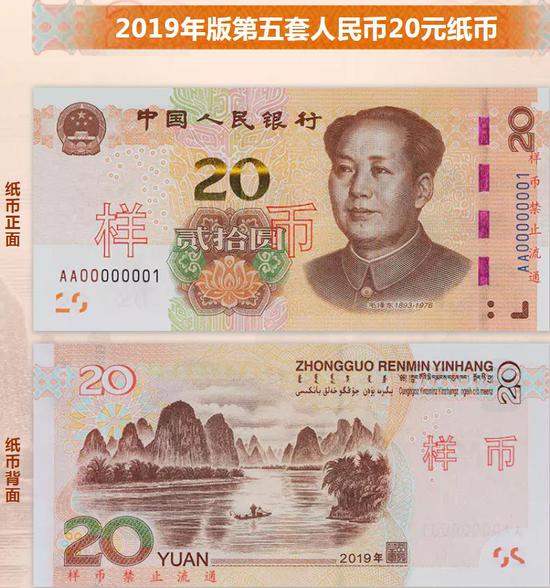 Sample banknotes of 20 yuan. (Photo/The Central Bank website)