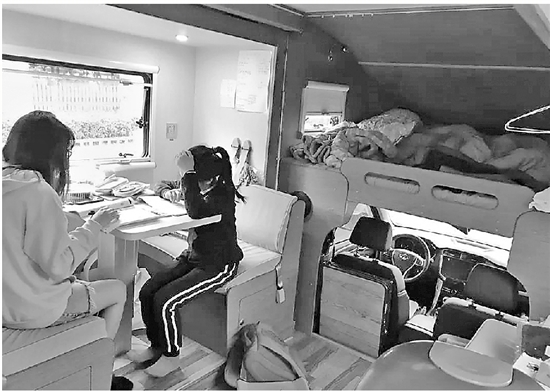 A little girl studies in a motorhome her parents have bought to ease her schooling. (Photo/Qianjiang Evening News)
(ECNS) -- A family in Wenzhou City, Zhejiang Province, has purchased a motorhome for nearly 500,000 yuan ($74,400) so their daughter can live as close as possible to the primary school the family has deliberately chosen.
The family lives in Yongjia County, but their daughter studies at a primary school far away in downtown Wenzhou, which is said to offer a better international quality education.
With an interior space of 6 square meters, the motorhome is well-equipped with all the amenities and equipment found in a normal home including a kitchen, bathroom, small living room, bedroom, washing machine, refrigerator and air conditioner. It's parked just opposite the school across a 5-meter-wide road.
A schedule inside the vehicle shows the 4th grader gets up at 7 am every morning, goes to school at 7:50 and sleeps at 9:00 pm.
Wu said her daughter eats at school during the day and she and the girl's grandmother take turns cooking dinner from Monday to Thursday. On Friday, they drive the vehicle back to Yongjia County.
Wu said it required great effort for her family to finally get her child admitted into the school four years ago. They used to let her board at the school, but found she was not ready for it and performed poorly in studies.
When the girl was a third grader, the family drove her to school and picked her up every day, which could take up to an hour for a single journey.
The family recognized the huge stress and so decided to follow their daughter's idea to buy a motorhome.
Wu said she's happy now because her child can save two hours a day, adding that the entire effort is to ensure she has more time to rest and get the best education.