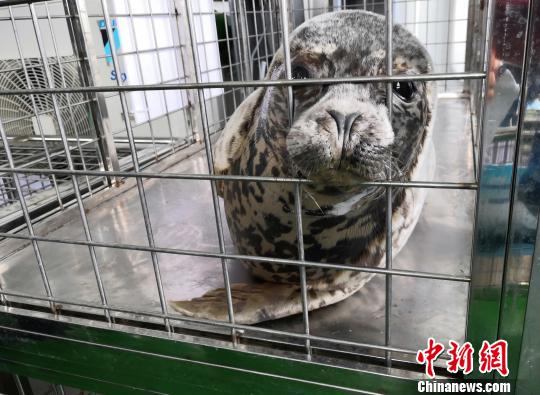 A spotted seal is to be released to the sea, April 11, 2019. (Photo/China News Service)
(ECNS) -- The first batch of 24 spotted seals, rescued during a police crackdown on illegal hunting, were released into the waters of the Bohai Sea in Dalian City, Liaoning Province, on Thursday.
The Ministry of Agriculture and Rural Affairs and the Liaoning provincial government organized the release.
Dalian police discovered 100 spotted seals on February 11, kept in a goose farm in the city's Hutou Village. Of them, 61 were rescued and sent to several institutions capable of providing the care they needed.
Han Jiabo, dean of the Liaoning Ocean and Fisheries Science Research Institute, said the spotted seals underwent health checks and virus tests before the release to ensure their ability to survive in the wild.
Yu Kangzhen, vice minister of agriculture and rural affairs, said the release aimed to raise public awareness of the need to intensify protection of aquatic wildlife.
The ministry will work with relevant departments to improve protection of aquatic animals and their habitats, and severely crack down on any illegal activity, Yu said.
Authorities will release more seals into the wild when they are ready to return. In addition, ten spotted seals will be marked with positioning beacons to help researchers better understand their activities and distribution.