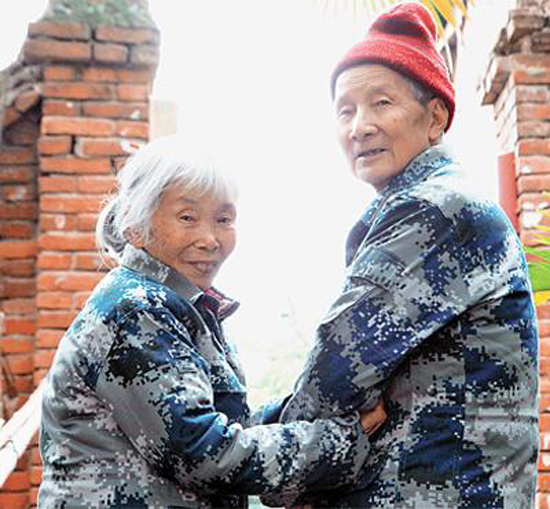 Ma Xu (L), China's first female paratrooper, and her husband. (File photo/People's Daily)
(ECNS) -- Ma Xu, China's first female paratrooper, has realized another dream at age 86 by donating 10 million yuan ($1.45 million) of her life savings to her hometown, Mulan County in Heilongjiang Province.
Ma made the first transfer of 3 million yuan on Sept. 13 and the second transfer of 7 million on April 8.
The funds will be used to build an arts and cultural center, construction of which is expected to be completed in October, and to support educational and cultural endeavors for local youth.
Ma was born into a doctor's family in 1933 and joined the PLA as a doctor herself in 1947. She won many medals and honors across different wars, including the Korean War, and also met her husband on the battlefield. After returning to China, Ma continued her advanced studies at a military medical university and later worked at a military hospital in Wuhan City, Hubei Province.
In 1961, she applied to become a paratrooper when a new airborne branch of the PLA was founded. Ma's first jump was in 1962. She made more than 140 jumps between then and 1984, when she was 51 years old.
She also set a national record as the oldest enlisted woman to do a parachute jump.
After retiring, Ma Xu, who has no children, missed her hometown so much that she finally decided to donate her family's savings, including royalties on publications and patents, to the county.
Today, the couple lives a simple life in a small house in Huangpo District of Wuhan. They still use their same hard bed from the 1970s and their sofas date back 50 years. They also habitually wear their military uniforms.
In February, Ma won a top award presented by China Central Television, which honors people in the country who have accomplished great deeds.