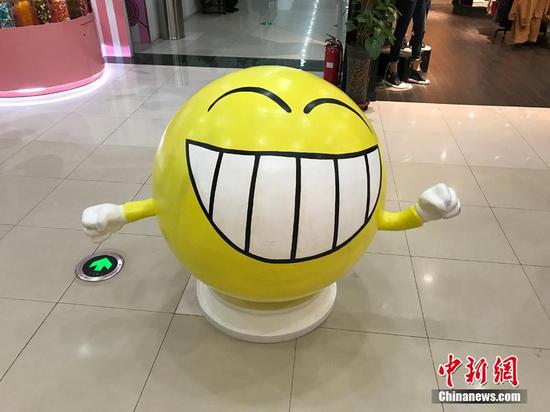 An emoji model was seen at a shopping mall in Changchun, Jilin Province. (File photo/China News Service)
(ECNS) - More than 76 percent of young respondents said they felt their language competence was becoming poorer as digital technology and Internet memes reshaped their communication habits, according to a survey by China Youth Daily.
The survey canvassed 2,002 people, among whom 80 percent were born after 1980. It found 61.9 percent said they scarcely use verses and 57.6 percent couldn't use complex rhetorical techniques, as examples of losing language proficiency.
According to the survey, 70.9 percent thought language problems had arisen because the Internet era preferred more direct and concise expression. More than 65.4 percent attributed the shift to homogenous expression and "copy and paste" culture, where people simply copied communication content from the Internet.
Cai Xiaojia (alias name), a secondary school teacher from Fuzhou City in Fujian Province, said words were being used less than they had previously because, for example, people could take a photo of a beautiful scene and there was little need for other creative expression.
Ding Xin, a student from the Central Academy of Fine Arts, said people also tended to be stereotypical in their praise of others, using a fixed set of sentence patterns and inflated styles.
Shen Xiaolong, a professor at the Chinese Department at Fudan University, said the Internet had enriched language and created a large number of new words, sentences, and rhetoric. However, the use of online expressions also had a profound impact on language and thinking, as people now increasingly pick up an expression without much personal thought, Shen said.
To improve language skills, 75.2 percent of respondents suggested that young people should work to think independently and train their own language logic, 59.7 percent called for creating platforms and environments that encouraged diversified expression, and 57.1 percent thought it necessary to read more literature classics.