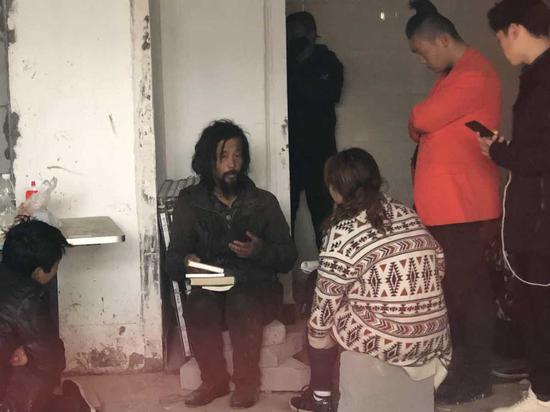 Shen Wei, a vagrant in Shanghai, receives interviews from the media. (Photo/Chinadaily.com.cn)
(ECNS) -- A homeless man in Shanghai who recently became an Internet celebrity known for his eloquence and erudition said fame cannot change his fate, according to Hongxing News.
Sitting on a busy street in the metropolis, ragged and unkempt Shen Wei looks like the usual stereotyped image of a vagrant. But he surprised many people when he started talking about ancient literature such as Zuo Zhuan, a commentary on the ancient Chinese chronicle Spring and Autumn Annals, and Shang Shu, documentary records related to events in ancient Chinese history.
In standard mandarin, he is also a good speaker on business matters and familiar with the history and legends of different regions. Occasionally, he suggests people stick to doing great things from the start to the end, illustrating his thoughts by using verses from ancient literature.
Videos of Shen have gone viral on the Internet and some netizens have started calling him "a master of Guoxue", the study of ancient Chinese literature.
A media report said he is a Shanghai native, and has lived the life of a wanderer for 26 years.
He was once a civil servant at an audit bureau in Shanghai. Authorities confirmed that an employee named Shen Wei has been taking sick leave for 26 years and still receives payments according to relevant standards.
"I grew up in a tough environment. To study, I used to collect waste, such as orange peels and broken glass, and sold them to earn money for buying books," he said.
"There are photos of Gandhi on my mobile phone. I admire him. I am especially willing to live a hard life. I don't flaunt it, I just like this kind of life," he added.
"I don't want to be famous and I like a quiet life," Shen said, adding "I'm getting old and know my destiny. What's more, life is so turbulent. For so many years, the principle I have been holding to is that people should not waste things unscrupulously."
"Over the years, I have since made up my mind to contribute to waste reduction. We can start from garbage classification and people who produce garbage."