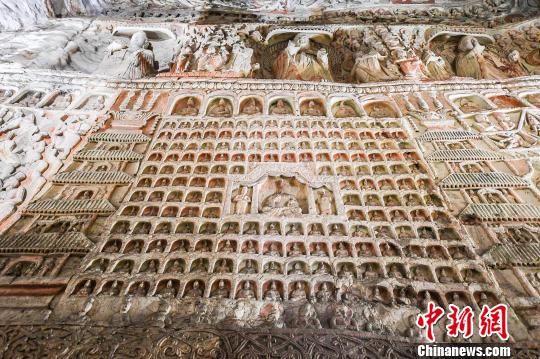 File photo of Yungang Grottoes. (China News Service)
(ECNS) - Administrators of the ancient Yungang Grottoes in Datong City, Shanxi Province, have kicked off a global campaign seeking a logo design for the UNESCO World Heritage site.
According to a statement from Yungang Grottoes Research Institute and Yungang Tourism Zone Administration Committee, the design invitation is part of efforts to promote the culture and art of the grottoes as well as further enhance public awareness of the site.
Designers are welcome to contribute their creations, with the winning prize set at 10,000 yuan ($1,490), said the statement.
The logo is expected to be creative, symbolic, widely applicable and highlight features of Yungang Grottoes.
The final 10 designs shortlisted will be evaluated through online voting and expert selection, accounting for 60 percent and 40 percent respectively. The other nine designers that made the short list will be awarded 2,000 yuan each as well as certificates.
With 45 major caves and 51,000 statues, Yungang Grottoes represent the highest expression of Buddhist cave art in China in the 5th and 6th centuries.