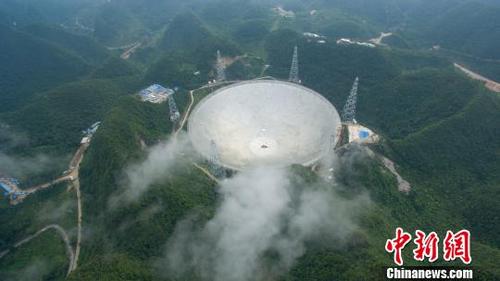 China's Five-hundred-meter Aperture Spherical Radio Telescope (FAST) in Guizhou Province. (File photo/China News Service)
Special: NPC, CPPCC Sessions 2019
(ECNS) - The Five-hundred-meter Aperture Spherical Radio Telescope (FAST) in Guizhou Province, the world's largest single-dish radio telescope, has been developed for scientific research and will not be employed as a marketing gimmick to boost tourism, said Wang Shijie, vice governor of the province.
Wang, also a member of the National Committee of the Chinese People's Political Consultative Conference, said Guizhou had applied much effort to ensure the best electromagnetic environment for FAST.
The three counties closest to the FAST site had all changed their economic and social development plans, and a planned airport in Luodian County had been cancelled despite having already won approval from the National Development and Reform Commission, out of concern for possible electromagnetic interference.
Wang also said that more than 2,000 rural households had been relocated, with the funds involved amounting to several billion yuan.
He said FAST is to be mainly used for scientific exploration and that Guizhou will never rely on it to profit from tourism. A current tour offered at the site, available to 2,000 visitors daily, is aimed at promoting popular science.
When entering the core area, visitors are required to undergo security checks stricter than those at airports. They cannot carry cameras, watches, mobile phones or any products that could affect the electromagnetic environment, according to Wang.
FAST is expected to complete national review and acceptance procedures by the end of September.