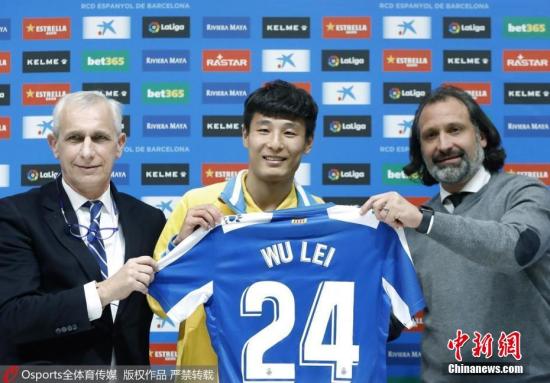 Espanyol's new Chinese forward Wu Lei (C) holds his new jersey during his official presentation by RCD Espanyol in Barcelona, Catalonia, on Jan 29, 2019. (Photo/Osports)
(ECNS) – The jersey of striker Wu Lei has been a top seller in Spain just two weeks after he signed with a local team Espanyol as only the second Chinese player to join the national league.
Wu has become one of the three most popular players for the Barcelona club, which has sold 400 jerseys with his name and the number 24.
The total number has surpassed 5,000 if sales of the sought-after item among Chinese customers are included, higher than sales for Espanyol striker Borja Iglesias in the past six months.
Espanyol said it will release Chinese version jerseys for Wu, Iglesias and Marc Roca before a match against Huesca on Feb. 22. There will be 100 limited edition Chinese versions of jerseys for the three players.