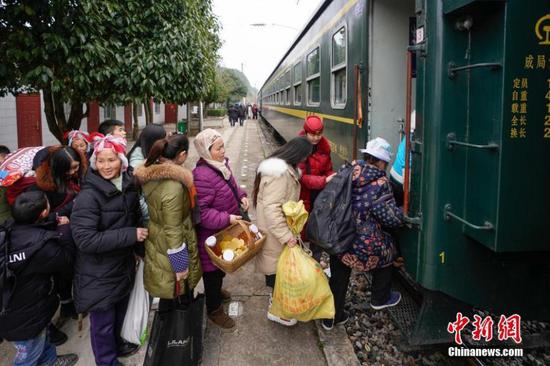 Passengers wait to board a train to Guiyang City, Guizhou Province, Jan. 17, 2019. (Photo: China News Service/He Junyi)
People nowadays are usually impressed with China's high speed trains and rapid development. Older, slower trains, however, are still a lifeline for many rural residents.
China has built more high-speed train tracks than any other country in recent decades, amounting to over 29,000 kilometers as of the end of last year. That's more than two-thirds of the world's total.
Also, the country has been bidding goodbye to most of its old-fashioned trains known for their slow pace and drab interiors, without air conditioning or sleeper beds.
In China, trains that are slower than bullet trains have cars with green exteriors that are powered by electricity or diesel engines. There is a tier of green trains for intercity travel, slower and less expensive than high-speed trains but still relatively common. Beyond that, there is a tier of trains that run at a slower speed due to frequent stops and offer lower fares.
Green trains were a major mode of transportation from the 1950s to the 1990s in China. Coal-powered engines, known for belching black smoke, have been phased out and replaced by electric or diesel.
According to China Railway Corp, 81 of the slow trains that make frequent stops are still in operation in 21 provinces, including 35 ethnic minority areas. Most of them are in southwestern, northwestern and northeastern regions.
An average of 62,000 daily trips are made by these slower trains to provide rural residents with easier and cheaper travel alternatives.
Premier Li Keqiang, during a visit to the Inner Mongolia autonomous region on Feb 1, called for coordinated development of high-speed trains and inexpensive but slower trains to serve passengers with different needs.
He said although China now has high-speed trains, it can't afford to lose the slower green trains, and unbalanced and inadequate development in the country means that both efficiency and fairness should be taken into account.
The low-speed trains are often used by locals to transport and sell farm products, buy daily necessities, see doctors and visit relatives. Sometimes they serve as the local school transportation because so many children take them to school.
As inhabitants along the way are scattered, sometimes only one passenger or no passengers board at any given stop. The trains still stop at each station and wait for a few minutes. The lowest fare is 1 yuan (15 cents).
Yang Xinzheng, an expert at the China Academy of Transportation, said that slow trains, much cheaper and covering more stations, have become an integral part of the shared memory of a generation. "It's a train of stories about poverty and a hard life, but it's also a train full of hope."