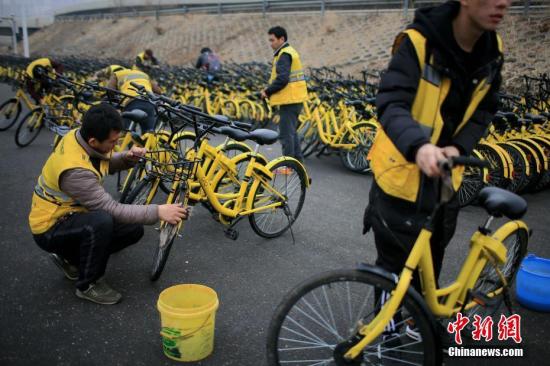 Workers put some Ofo bikes in order. (File photo/ China News Service)
(ECNS) — The Ministry of Transportation has urged struggling bike-sharing pioneer Ofo to safeguard the legal rights of users and improve deposit refunds.
As of Friday, Ofo has received more than 11.9 million users waiting for deposit refunds, both online and at the company's headquarters.
Wu Chungeng, spokesperson for the ministry, said it supports the development of bike-sharing companies as they provide a new option to improve green, public transportation through the use of mobile Internet.
The ministry hopes Ofo can improve its capacity for sustainable development through measures to increase revenue and reduce expenditures, Wu added. Ofo is also urged to streamline deposit refund channels to ensure faster processing.
Wu said as a new form of business, bike sharing will encounter development problems but overall the sector has enjoyed stable growth in China with strong market demand.
Data shows people conduct more than 10 million rides a day on shared bikes.
"It's hoped that the public can hold a rational view of bike sharing, offering more tolerance and support," said Wu.