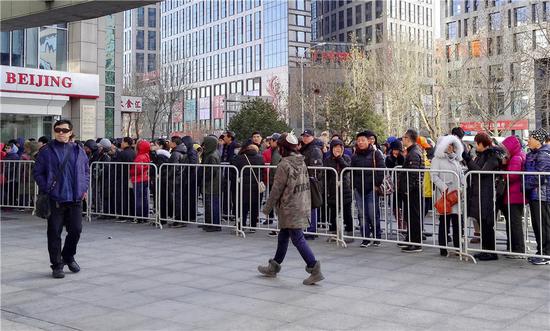 People line up outside the headquarters of Ofo to ask for refunds of their deposits in Beijing on Tuesday. (Liu Hongsheng/For China Daily)
Nearly 2,000 people gathered outside the headquarters of bike-sharing giant Ofo in Beijing on Tuesday morning, anxious to know whether-and when-their deposits for the shared bikes will be returned.
Ofo, one of China's leading bike-sharing companies, said late on Monday that because of the increasing number of claims, applications for refunds will be dealt with in the order received. The company asked people to wait patiently.
The company claimed 200 million users in November last year, meaning deposits could amount to as much as 20 billion yuan ($2.9 billion).
At 9:30 am on Tuesday, a long line of users crowded outside the company's headquarters in Beijing's Zhongguancun area, still dubious about Ofo's reassurances.
Zhang Na, a 50-year-old Beijing native, said she had sought a refund of her deposit for about two months but failed. After waiting in line for nearly two hours, Zhang again failed to get her deposit back, as the company said her account had a deficit.
"I can't get a word with the company staff," she said, adding that the scene at Ofo was out of control, and a heated dispute even broke out between workers and customers.
By 5 pm on Tuesday, the refund system of the Ofo app showed that more than 9.7 million users were waiting for refunds, with requests totaling at least 920 million yuan.
A staff member from the company's security department, who asked not to be named, said applications for refunds should be made online because the company didn't accept applications at the headquarters, even though people can ask about related matters.
Ofo's offices in Jinan, Shandong province and Xi'an, Shaanxi province, were vacated last month, China Central Television reported on Monday. That caused fear to rise for some who thought the company was on shaky footing.
Zhu Wei, an associate law professor at China University of Political Science and Law, said deposits for shared bikes should be supervised through the entire process.
"Currently, there's not enough regulation," Zhu said, adding that it's necessary to set up an industry association to supervise the use of deposits.
Regarding the current situation, Zhu said it's partly due to the company's funds being in short supply. How to get through these difficulties is the key issue that Ofo should be looking at, he said.
In August last year, a guidance from the Ministry of Transport suggested that the use of bike deposits should be narrowly restricted.
The use of deposits should also be supervised by related transport and finance departments, the guidance said.