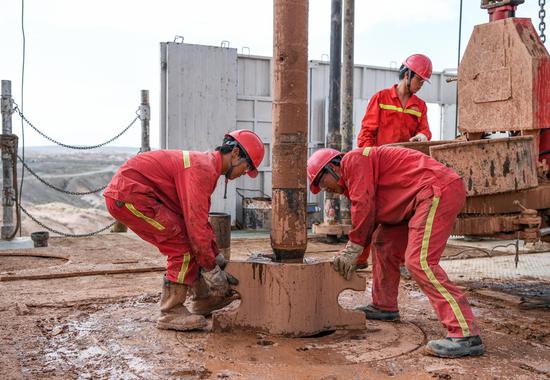 Employees of a petroleum exploration company work at a newly established drilling platform in Aksu, the Xinjiang Uygur autonomous region. (Photo/Xinhua)
Sichuan project first in region that extracts clean energy from volcanic stratum
A new well that pumps natural gas from volcanic stratum has been successfully dug in China's southwestern Sichuan province, becoming the first of its type in the region, according to PetroChina.
During initial tests last week, the well produced 225,000 cubic meters of natural gas per day, and reserves in the area are estimated to be huge, said PetroChina Southwest Oil and Gasfield Co, which operates the project.
The well looks to extract gas trapped in the volcanic stratum, a rock formed by hardened magma. More than 330 basins in over 20 countries and regions have reported oil or natural gas reserves in volcanic stratum, according to Sinopec News.
Energy analysts said the project's success could lead to more potential resources being tapped across the rest of the country.
"The successful gas drilling in the Sichuan basin's volcanic stratum proves geologists' judgment that abundant gas is contained in the Sichuan basin's thick volcanic stratum," said Han Xiaoping, chief analyst with China Energy Net Consulting.
"It also gives evidence-based support to the theoretical assumptions of how to explore natural gas in similar geographical structures across the country, such as that in Northeast China and Hainan province."
The huge reservoir of natural gas in the volcanic stratum is also significant to secure China's national gas supply and will help build a lower-carbon energy future, according to Han.
Considering the tests, Han estimates the first well is able to produce more than 80 million cu m of natural gas annually, although that would naturally rise as more wells are added. That compares to the 100 to 200 million cu m of natural gas. which can support an average Chinese city for a year, he said.
The breakthrough is especially important given that China is replacing coal with clean energy sources to combat air pollution, Han said. It also comes as natural gas imports are rising, currently accounting for about 40 percent of domestic consumption.
If natural gas can form during the creation of volcanic stratum, it may also exist in deeper layers of the earth crust, which indicates a much greater space to explore and utilize natural gas, he added.
Li Li, energy research director at market consultancy ICIS China, said the success would help generate technical experience and new technologies, which can be applied to other natural gas projects later.
She said the operation also demonstrated the company's determination to expand domestic natural gas production, a strategy pursued by other Chinese industry players.
China has discovered a number of natural gas and oil reserves from volcanic stratum in the deep layers of basins across the country since 2002. The one in the Sichuan basin, first detected in 2017, is among the largest.
PetroChina Southwest Oil and Gasfield Co said it applied new technologies to dig the first well in the volcanic stratum area, increasing the drilling speed and reducing blockage of the gas storage layer.
The company said it has detected natural gas reserves of two trillion cu m in the past decades, improving natural gas utilization in Sichuan province and Chongqing municipality.