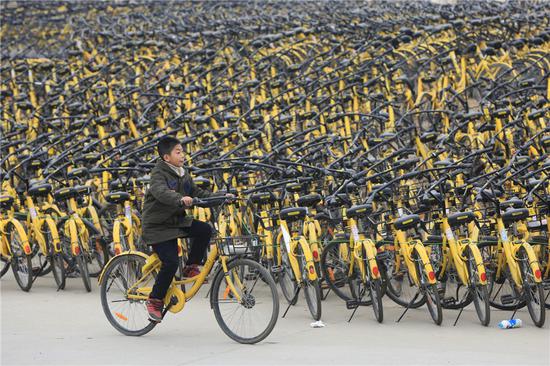 An Ofo customer rides past piles of the company's bikes in Xiangyang, Hubei province. (Photo by Guo Qi/For China Daily)
Thousands of angry users line up at firm's Beijing HQ to demand payment
Beijing-based Ofo Inc, the cash-strapped bike-sharing platform, has come under fire for stalling on deposit refunds, making it even harder to pedal to a foreseeable future.
As of Wednesday afternoon, Ofo has received more than 10 million online applications for deposit refunds. Thousands of angry users lined up in clusters at the company's Beijing headquarters during the past days, eager to know whether and when they will get their deposits back.
To rent shared bikes, early users were asked to pay a 99 yuan ($14) deposit fee which was later raised to 199 yuan. Based on that, the total scale of refunds will amount to more than 1 billion yuan.
Ofo claimed for users who register for deposit refunds at the firm's office, the collected offline information will be merged into the online sequence in chronological order.
"Due to the large user base, there may be a significant surge in applications. Please have patience and wait it out, we promise to handle it appropriately," Ofo said in a recent statement posted on its official Sina Weibo account.
Chen Yinjiang, deputy secretary-general of the China Consumer Protection Law Society, said: "According to the regulations of non-motor vehicles in Beijing, bike-sharing companies registered in the city must put consumer deposits into a designated bank account. Once users apply for the refund, the money shall be returned in time."
Chen added, "Considering the recent deposit-refunding crisis, I would suggest the traffic administrative department to investigate Ofo's management situation and make moves accordingly to protect consumers' legal rights."
During the past few years, bike-sharing fever has swept across China, with colored dockless bikes sweeping across major cities and providing convenient rental services via smartphone apps.
Buoyed by several rounds of venture capital investment, major bike-sharing platforms expanded rapidly at home and abroad, offering loss-making rental prices amid the increasingly fierce competition.
"Major bike-sharing participants like Ofo invested heavily in the rapid market expansion and left less room for refined management and maintenance, making it difficult to drive to a sustainable future," said Raymond Wang, partner of Roland Berger China.
Wang noted the bike-sharing industry is currently going through a downsizing phase, requiring better operational capabilities as well as more investment in high-quality products.
"The bike-sharing sector's big wobble will be an alarm bell for sharing economy participants as well as internet entrepreneurs, which will help generate healthier business models in the future," Wang added.
Sun Naiyue, an analyst at Beijing-based internet consultancy Analysys, agreed.
"After years of high-speed development, China's bike rental fever has reached a saturation point," Sun noted.
"Since January this year, the growth has slowed in terms of the number of monthly active users. And we may see hotter competition among major participants in first-tier and second-tier cities."
"The bike-sharing sector's profit model is unclear, due to its heavy-asset business and high costs. Thus it is more likely to see shared bikes as part of the tech giants' whole ecosystem," Sun added.
Data from app tracker Analysys Qianfan show Ofo's arch-rival Mobike has taken the top spot in terms of active users in November, gaining more than 18 million monthly active users. While Ofo has fallen from the top slot to second with over 17 million monthly active users, a decrease of 24 percent month-on-month.
"Bike-sharing actually provides a choice for users' short trips, catering to their specific demand," Sun said. "Despite the current crisis, bike-sharing industry will continue to grow in the future."