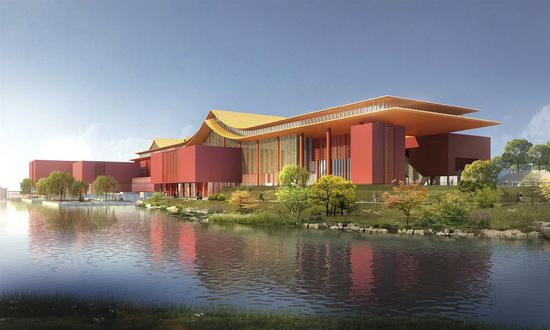 The rendering picture of a new branch of the Palace Museum. (Photo from Internet)
(ECNS) - The Palace Museum has begun construction on a new museum in Beijing's Haidian District to display more cultural relics to the public.
Located in Xiyuhe Village, the new museum compound will cover 62 hectares and have facilities with a total floor area of 102,000 square meters. Exhibition areas, space for cultural relic restoration and warehouses will cover 35,000 square meters, 20,000 square meters and 23,000 square meters respectively. It will also include 9,500 square meters of space for digital mass communications and a 2,500-square-meter visitor service area.
The new facility for large-scale precious cultural relic exhibitions is expected to welcome three million visitors a year.
Efforts now are focused on geological and archaeological exploration of the construction site.
Shan Jixiang, curator of the Palace Museum, said the new venue will present a series of exhibitions with distinctive themes and offer visitors a direct view of restoration efforts.
On completion, it will become an important stop on Beijing's cultural tourism routes, which also include the Old Summer Palace, the Badaling section of the Great Wall and the Ming Dynasty Tombs.
The Palace Museum is also known as the Forbidden City. Its vast imperial collections of paintings, calligraphy, ceramics and antiquities make it one of the most prestigious museums in China and the world. In 1987 it was listed as a UNESCO World Heritage site.