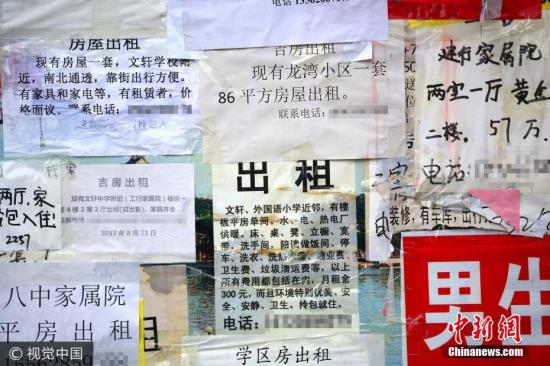 Advertisements of apartments for rent. (Photo/VCG)
(ECNS) - Demand for rental housing is on the rise in the Beijing-Tianjin-Hebei area, with 49.9 percent of demand originating in the capital city, according to a report by 58 Anjuke Institute, a property information provider.
In the first eight months of the year, rental housing in Beijing and Tianjin accounted for 90 percent of the total supply in the three regions, which are undergoing massive integrated growth, the report said.
Approximately 68 percent of homes in the market were less than 90 square meters, and nearly half had a monthly rent of 4,500 yuan ($650). The average rental price in Beijing and Tianjin was 78.2 yuan and 32.2 yuan per square meter respectively.
According to the report, demand for rental properties had shown an upward trend year on year in the region, amid policy changes and a greater willingness by people to live in rental accommodations.
Zhang Bo, chief analyst at 58 Anjuke Institute, said there were still significant variations between Beijing and Tianjin in terms of living costs and household registration requirements. Beijing remained a city where many people wanted to work, and stood out for its advantages when it came to finance, culture and Internet industries.