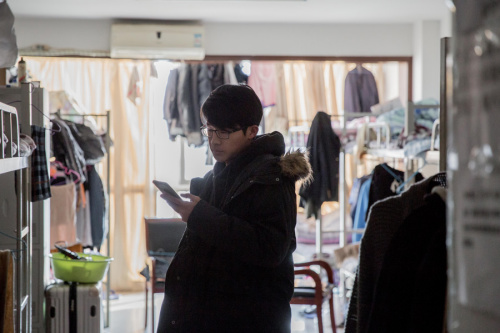 A tenant in a Beijing apartment checks his smartphone for leads to cheaper accommodation. (Photo provided to China Daily)
Now that the Spring Festival holiday is over, home rentals in Beijing are expected to rise because of two factors.
One, the number of homes available for renting has shrunk; two, workers from interior areas have started to flock back to the country's capital. So, demand is expected to outstrip supply.
"A week into the Chinese lunar new year, there would be a growing number of potential tenants looking for rooms, and after two weeks, the market will become very active," said Liang Yanming, senior analyst at Hopefluent Real Estate Research, a branch of the Hong Kong-listed Hopefluent Real Properities.
Typically, rentals rise after the annual holiday. This year will be no exception even though overall housing prices have dropped of late, industry insiders said.
"The rentals will rise because we can't source enough homes from landlords," said Fang Yanping, an agent from Lianjia, China's biggest real estate chain dealing in rentals and pre-owned homes.
"Since last year's fire tragedy, many apartment buildings were torn down or barred from renting out. So supply has been affected while demand remains high. We're having a hard time finding homes for prospective tenants," she said.
She was referring to the Nov 18 fire in a two-story residential building of low-income migrant workers in the Daxing District, a southern suburb of Beijing, that killed 19 residents and injured eight.
"Take the 28-square-meter studio in Lishuiqiao area, for example. Its monthly rent in 2017 was 4,200 yuan ($662.60). That could now be 4,600 yuan or more," Fang said. Lishuiqiao is a popular residential area near the North Fifth Ring Road of Beijing.
"It's common for a landlord to charge 200 yuan more per month on average when a new year or a new contract starts," said Zhang Rong, who owns a small apartment in Lishuiqiao area but lives in Hubei province.
"I heard people say rentals and home sale prices in Beijing dropped last year. I'm not in Beijing and not so sure about the market situation, but I'm certain my flat can be easily rented out and a hike of 200 yuan in monthly rental this year is modest."
According to the data of the China Real Estate Association, in February the average rental in Beijing was 71 yuan per square meter per month, up 2 percent from the January level.
Five of the total 10 districts in Beijing have seen a double-digit rental increase in percentage terms year-on-year. Fangshan and Mentougou districts have seen the most significant price rises of 28.35 percent and 23.77 percent year-on-year respectively.
Not only Beijing, even Guangzhou, a first-tier city in the southern Guangdong province, is expecting a boom in its rental market in the post-holiday season.
"The active period for the home rental market will usually come before that for the sales market," said Liang of Hopefluent.