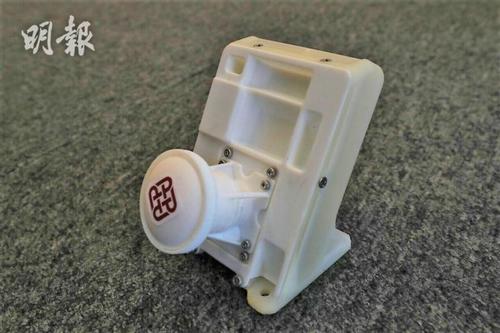 A model of a "Mars camera" to be developed by Hong Kong Polytechnic University. (Photo/Ming Pao)
(ECNS) - Hong Kong Polytechnic University (PolyU) and China Academy of Space Technology (CAST) signed an agreement on Wednesday to jointly develop a camera for China's first Mars probe.
The two sides will develop and produce a camera on the mission's spacecraft scheduled for launch in 2020, which will conduct orbital and surface exploration of the red planet.
The "Mars Landing Surveillance Camera," to be located on the outside top surface of the Mars lander, will monitor the deployment status of the Mars rover with respect to the status of its solar panel, antenna, as well as movement.
According to the HK PolyU website, the camera will have to be around 380 grams while strong and durable under extreme temperatures during space travel between Earth and Mars over nine months, followed by operation under extremely low temperatures on the Mars surface. It will also be able to tolerate impact shock of 6,200G (i.e. 6,200 times the force of earth's gravity). Despite having a wide-angle field of view (a maximum of 120 degrees horizontally and maximum of 120 degrees vertically), the camera will have low image distortion.
Professor Yung Kai-leung, chair professor of Precision Engineering and Associate Head of Department of Industrial and Systems Engineering, PolyU, will lead a research team of 20 members to work closely with mainland experts on the camera's development.
PolyU researchers have been involved in a number of national and international space exploration projects since the 1990s. The PolyU team is confident to complete and deliver the Mars camera within next year, ready for the launch in 2020.