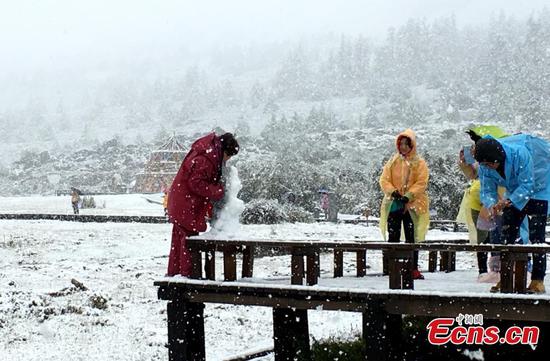 Visitors enjoy view of snow at Daocheng Yading scenic spot in Ganzi Tibetan Autonomous Prefecture of southwest China's Sichuan province on September 20, 2016. (File photo/China News Service)
(ECNS) - A top tourist attraction in southwest China's Sichuan Province has begun charging irresponsible tourists for emergency rescues after increased service strain.
Yading in the province's Daocheng County is a national level reserve famous for its abundant natural resources. It is a mountain sanctuary and major Tibetan pilgrimage site comprising mountains with peaks higher than 6,000 meters above sea level.
According to local authorities, expenses for search and rescue missions across the 14.6 million square meter scenic spot can start between 15,000 yuan (about $2,200 ) and 20,000 yuan.
In addition, expenses only include the labor costs of search and rescue personnel and use of equipment and tools - other expenses such as transportation, fire-fighting and medical treatment are in addition.
A lot of manpower and material resources are invested each year in rescuing tourists who climb mountains or cross areas without approval, authorities at the scenic spot said. On average, approximately 800 hikers a year pass through the tourist attraction, with October being the peak month.
Tourists are urged to accurately report their situations when seeking help from rescuers, without deliberately exaggerating or watering down the dangers, local authorities said.
At times, external forces such as heavy rain, mudslides and landslides can force authorities to suspend search and rescue operations, they said.
According to media reports, illegal hiking tours organized by individuals or groups have resulted in six deaths in the scenic reserve, while a further tourist was reported missing.