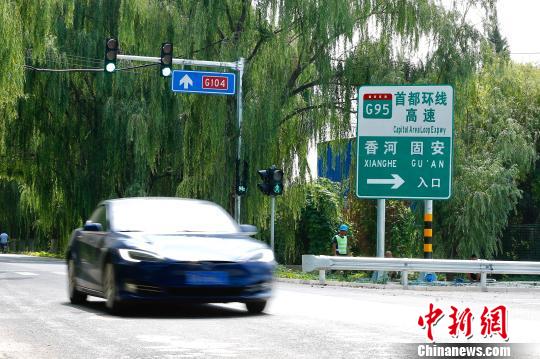 A car drives past the Tongzhou-Daxing section as the expressway section closes a gap in the 940-km loop-line of Beijing's greater outer ring road, Aug. 20, 2018. (Photo/China News Service)
(ECNS) - The greater outer ring road of Beijing opened to the public on Monday at noon as the Tongzhou-Daxing section was finally put into service, closing a gap in the 940-km loop-line, said Beijing Municipal Commission of Transportation.
As part of the G95 Expressway, the 38-km section links the southern border of Caiyu Town in Beijing's suburban Daxing District with the eastern border of Xiji Town in booming Tongzhou District. The two-way, six-lane expressway has a designed speed of 120 kilometers per hour.
Opening of the section will improve the national and regional road network and help enable a one-hour connection between major cities in the Beijing-Tianjin-Hebei region, which is part of a massive strategy for coordinated development.
The commission said the Tongzhou-Daxing section can help ease traffic pressure on the eastern 6th Ring Road and also facilitate cargo transportation through the capital.
The new road also marks the elimination of dead-end highways in Beijing and will aid the development of Tongzhou, three counties in Langfang City of Hebei Province and Wuqing District of Tianjin.