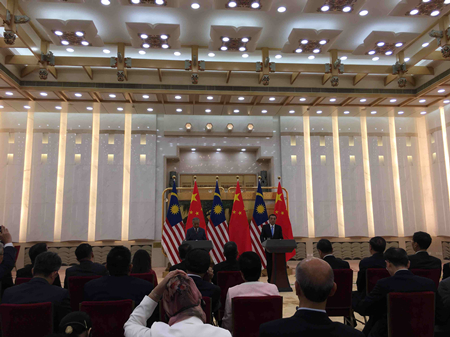 Chinese Premier Li Keqiang and his Malaysian counterpart, Mahathir Mohamad, hold a joint press conference in Beijing on August 20. /CGTN Photo‍
Chinese Premier Li Keqiang reiterated on Monday that there is no winner in trade frictions and he and his Malaysian counterpart agree to advocate free trade and globalization and share common interests.
Li made the remarks during a joint press conference with visiting Malaysian Prime Minister Mahathir Mohamad in Beijing.
Speaking of the ongoing trade frictions, Li took river water quality as an example, saying if water is polluted, then the impact will not only be on fish but all the creatures in the river.
He also said that China will push forward the mutual benefits realized between the two countries, boost bilateral ties to a new height, and find new growth in upgrading traditional industry and innovation in new industries.
Mahathir said that the innovative and new ideas could be applied in Malaysia. Malaysia believes in cooperation with China, Malaysia will be benefited. 
The Malaysian prime minister noted that his country can learn a lot from China, as China is a big country and a prosperous market built by very dynamic people. He believed that China's investment in Malaysia could solve some of their internal fiscal problems.
Ahead of the press conference, the two leaders witnessed the signing of memorandums of understanding between the two governments, covering cross-border accounting and audit regulatory cooperation, durian and palm oil trade and business.
Earlier in the day, Li held a welcome ceremony for his Malaysian counterpart at the Great Hall of the People, and then the two held an in-depth discussion on bilateral ties.
Li said China and Malaysia share strong and stable ties, and China will not change its friendly policy towards Malaysia.
Mahathir thanked Li for the hospitality. He stressed the long history of the good and neighborly relations between the two countries.
He said Malaysia seeks mutual beneficiaries even when there are ups and downs. He said one of the important targets for him back to the office is to strengthen ties in various fields between China and Malaysia.
Mahathir arrived in the Chinese capital Saturday, the second leg of his official visit to China and he has already met with Chinese State Councilor and Foreign Minister Wang Yi. 
The recently-elected Malaysian leader chose Hangzhou in east China's Zhejiang Province as the first stop of his trip. There, he visited the headquarters of automaker Geely and e-commerce giant Alibaba. The visit is the 93-year-old prime minister's first trip to China since taking office in May.
(CGTN's Zheng Yibing also contributed to this story.)