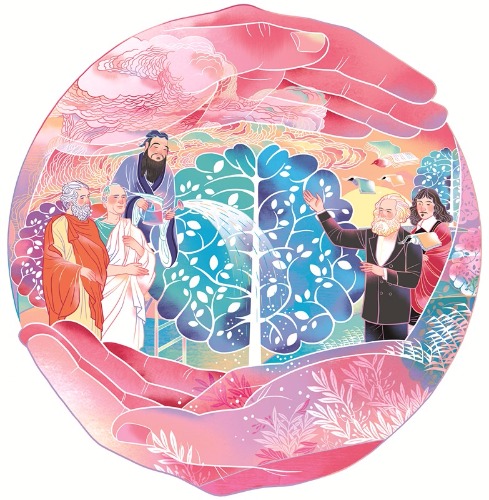 (Photo/China Daily)
Philosophy is the study of general and fundamental problems concerning matters such as existence, knowledge, values, reason, the mind and language.
The word comes from the Greek philosophia, combining the words philo (love of ), and sophia (wisdom).
Yet the rapid advance of science and technology has made many feel that philosophy is increasingly irrelevant in modern times.
The fact that it is incapable of solving practical problems that have emerged as a result of rapid social and technological development has reinforced people's skepticism toward the academic discipline.
And for a long time, philosophy has been regarded as something of a riddle by many observers.
Li Kun, a doctoral candidate majoring in art philosophy at Central South University in Changsha, Hunan province, said: "Philosophy raises new questions, and it gives people a deep and profound understanding of issues. And it has guided, if not created, new branches of science to resolve these questions."
Li is among the 8,000 participants from 121 countries and regions who attended the 24th World Philosophy Congress in Beijing, which ends on Monday.
Intellectual hunger
Philosophy took center stage in China in the 1980s after the "cultural revolution" (1966-76) and the reform and opening-up of the country both created a collective intellectual hunger, and also brought about the possibility of accessing Western thought and embracing new thinking.
Yet a period that featured the popularity of Western thought and the further decline of traditional Chinese culture and philosophy gradually gave way to rapid economic growth and extensive social evolution in the early 1990s. Development flourished as idealism ebbed.
Difficulties in society and worsening environmental problems have awakened many to the harsh challenges the nation faces, which they fear will jeopardize developmental sustainability.
Zhang Fan, a doctoral student in philosophy at Southeast University in Nanjing, Jiangsu province, who is taking part in the congress, said philosophy can be a way for humans to resolve the challenges they face.
Philosophers have their own way of contributing, Zhang said.
"Before asking how to solve problems, philosophers will contribute to the solution by researching the problems, by coming to an understanding of the issues, and by communicating what they have come to understand to the world."