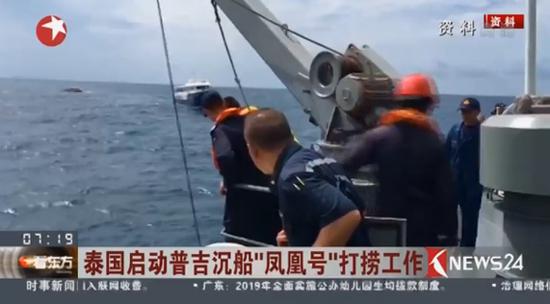 Rescuers plan to salvage the capsized tourist boat Phoenix. (Photo/Screenshot on News 24)
Special: Thai Boat Tragedy Rescue Operation
(ECNS) -- Thai Marine Department chief said on Sunday that rescuers plan to salvage the capsized tourist boat Phoenix.
Chirute Visalachitra made the statement during a visit to the Phuket deep sea port to inspect progress.
The Phoenix was one of two boats that capsized in the Andaman Sea in southern Thailand, leaving 47 dead. The captain has declared he is unable to salvage the boat, prompting Thai marine authorities to instead raise it.
According to professional divers, about 10 percent of the hull is covered by sea sand at a depth of 45 meters.
Thai authorities said it would take about a week and $301,000 to finish the salvage before police and shipbuilding experts could inspect the wreck.
To prevent similar accidents, Thai marine authorities and police are inspecting more than 400 tourist ships in Phuket. Among the nearly 100 already checked, two were found to pose serious safety hazards and were ordered to stop services.