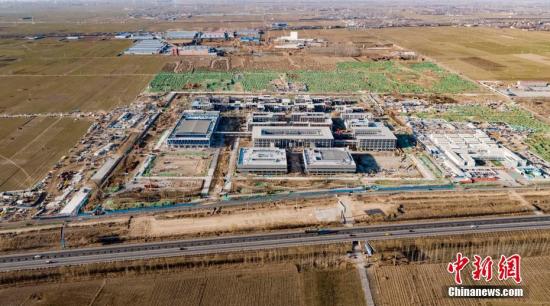 An aerial view of Xiong'an under construction. (Photo provided to China News Service)
(ECNS) - Beijing has rolled out a three-year action plan to support integrated growth with neighboring Tianjin and Hebei Province, according to the city's top economic planner.
The 2018-2020 plan, released by Beijing Development and Reform Commission, said the capital will strengthen links between its "subsidiary center" under construction in Tongzhou District and Xiongan New Area in Hebei as the location for Beijing's non-capital functions.
Beijing will closely align with various plans for Xiongan New Area and implement a strategic agreement signed with Hebei Province, according to the plan. It will also support the building of three new schools and one general hospital in Xiongan and ensure progress at Zhongguancun Science and Technology Park as well as to the Beijing-Xiongan intercity railway.
The commission said Beijing's outstanding education and medical resources, such as Beijing No. 4 High School, Shijiahutong Elementary School, Beihai Kindergarten and Xuanwu Hospital, will provide support to new public services in Xiongan.
In April 2017, China announced the establishment of Xiongan New Area, spanning three counties in Hebei Province about 100 km southwest of downtown Beijing.
Progress has been made in sharing technical resources with Xiongan. In the first six months this year, 12 Zhongguancun-based companies settled in the new park at Xiongan.
Beijing will cooperate with Hebei to speed up projects in Xiongan in the second half of this year, such as launching overall planning of the Zhongguancun Science and Technology Park and improving the framework agreement for healthcare development. Efforts will also be made to ingrate city planning in Tongzhou District with the three northern counties in Langfang City, Hebei.